Elephant - [Loxodonta africana (African Bush Elephant) | Loxodonta cyclotis (African Forest Elephant) | Elephas maximus (Asian Elephant)]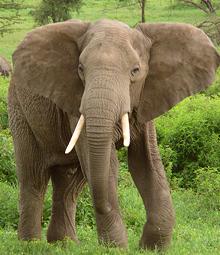 Elephants are found in patches of Africa, India and Southeast Asia. The earliest known ancestor of Elephants was about the size of a fox, and lived in what is now Morocco. The male African Bush Elephant is the largest, usually weighing in at around 13,330 pounds, but the largest on record weighed 22,000 pounds.
Elephants have long been eaten by people, particularly in Africa. Today African Elephants, are under great risk from poachers, not for food, but for the illegal ivory trade. Most of this ivory is shipped to Asia. So vicious is this poaching that in 2013 over 1000 park rangers were murdered while trying to protect the elephants. Photo of Black Agouti by T-34-85 contributed to the Public Domain.

Rock Hyrax - [Dassie (Africaans), Procavia capensis (Rock Hyrax) | Heterohyrax brucei (Bush Hyrax) | Dendrohyrax dorsalis (Western Tree Hyrax) | Dendrohyrax arboreus (Southern Tree Hyrax)]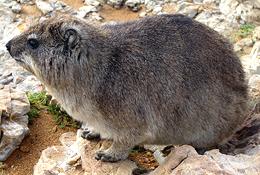 Yes, they are closely related to Elephants - they even have little tusks, but not long enough to project out. One variety or another of the Hyrax is found over most of Sub-Saharan Africa, but the Rock Hyrax also extends into the southern mountains of Algeria, along both sides of the Red Sea, and north into Israel. Adult Hyraxes range from about 5 pounds to 8 pounds, with the Rock and Bush Hyraxes heavier than the Tree Hyraxes.
Hyraxes have a host of predators, everything from eagles to snakes, and are also hunted by humans for food, though not intensively. The Rock Hyrax (Dassie) was much eaten by early Dutch settlers in South Africa due to the serious shortage of meat animals available to them. Their guns were too clumsy and ineffective to go after big game. The Rock Hyrax is safe from humans in parts of its northern range because it isn't kosher or halal. Photo of Rock Hyrax by User25384 distributed under license Creative Commons Attribution-ShareAlike v2.0 Germany.

Sirenia - [Sea Cows; family Trichechidae (Manatees) | family Dugongidae (Dugong)]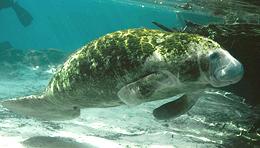 These almost entirely vegetarian, fully aquatic animals eat large amounts of water plants, thus are restricted to warm, shallow regions with plenty of vegetation. Manatees are found in estuaries and rivers on both sides of the Atlantic. They inhabit the entire Caribbean region and the Amazon basin deep into the center of South America. In Africa they live along the west central coast and far up the rivers almost to central Africa. A full grown Manatee can weigh more than 3,900 pounds. Dugongs live in waters along the east coast of Africa, including the Red Sea, and through the islands of Southeast Asia. The largest Dugong recorded weighed 2,200 pounds.
At the time of the Spanish arrival, the natives of the Caribbean region were hunting Manatees for food, and they were similarly hunted in Africa. Today, these animals are legally protected through much of their ranges, but poaching for food is still a problem. The main risks to these animals are from other human activity: ships, boats, fishing nets, oil spills etc. With manatees, damage from ships is very common because they don't hear low frequency sounds well. Photo of Manatee from U.S Fish and Wildlife Service = Public Domain.