---
Beef Cheeks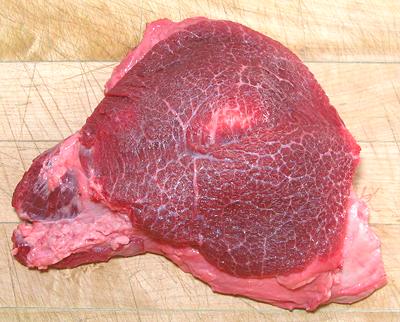 [Joues de Boeuf (French), Guanciale di Manzo (Italian)]
This cut is very highly regarded in Italy and France, and is strongly favored for Barbacoa in Mexico. It is very tough and shot through with connective tissue, (cows use these muscles all day to chew their cud) so it is braised in a flavorful broth for at least 3-1/4 hours until very tender.
The photo specimen was purchased from a multi-ethnic supermarket in Los Angeles. the meaty section, after trimming, was 7 inches long by 5 inches wide and 2-1/4 inches thick, weighing 15-5/8 ounces. As sold, with fat, it was 1 pound 13 ounces. 2013 US $2.99 / pound.
More on Cuts of Beef.

---



Prep: The photo at the left shows the condition of this cut as sold. It has a lot of fat combined with connective tissue and some small pieces of meat. None of this went to waste. It was frozen for inclusion in the next batch of beef stock, for which it was excellent.

Note: much of the flavor in fat is water soluble, so it should not be discarded, but included in the stock pot. Use your gravy separator to remove the fat after simmering for 4 to 6 hours.

Yield: A 1 pound 13 ounce package was 15-5/8 ounces (54%) after trimming. This is sort of "worst case". My average over a fair pile of these was 61%. Little fat remains on the photo specimen above, but I left quite a bit of connective tissue which will dissolve in the long cooking. This connective tisue is important to Beef Cheek recipes.

Cooking This cut is very tough, so recipes call for long oven brazing, usually about 3 to 3-1/2 hours in a flavorful broth made with herbs, vegetables, wine and beef stock, which is strained, de-fatted and reduced to make the sauce.
ab_cheekz 1311107 - www.clovegarden.com
©Andrew Grygus - agryg@clovegarden.com - Photos on this page not otherwise credited © cg1 - Linking to and non-commercial use of this page permitted
---