---
Veal Breast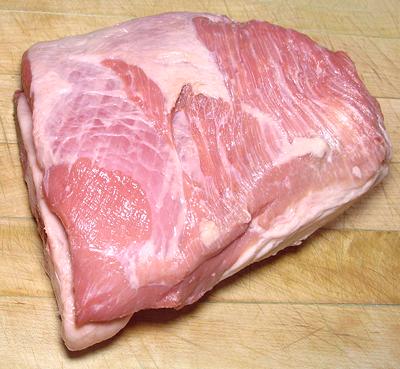 The Veal Breast region is equivalent to the combined Brisket and Plate region of the beef chart. The Veal Breast, because of its much more manageable size, is treated entirely differently from the beef brisket. It is usually sold bone-in, and, though just roasting it works fin, it is a favorite for stuffing. This is done by partially separating the meat from the bones and slipping the stuffing in between.
The photo specimen was 7-1/2 inches long, 7 inches wide and 2-1/4 inches thick. It was purchased for 2012 US $2.49 per pound, probably on sale, 'cause I'm real cheap.
More on Cuts of Veal.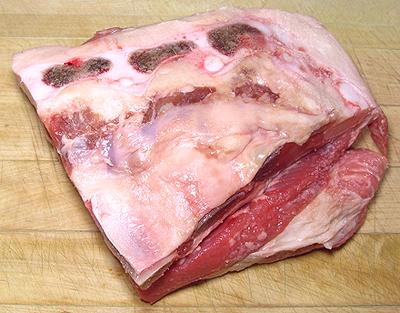 This is a view of the veal breast roast from the bone side. It should be cut quite flat on this side.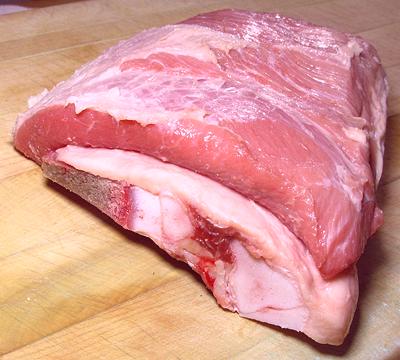 This is another view, bone side down and showing an end view where the stuffing separation will be made.

---
| | | |
| --- | --- | --- |
| | | Cooking: I'm not a big one for real fancy, so I usually just roast this thing as is, pull the bones, slice it and serve with a pan juice sauce. Most recipes call for stuffing it before roasting. |
ab_vshldz 131103 - www.clovegarden.com
©Andrew Grygus - agryg@clovegarden.com - Photos on this page not otherwise credited © cg1 - Linking to and non-commercial use of this page permitted
---