---
Giant Elephant Ear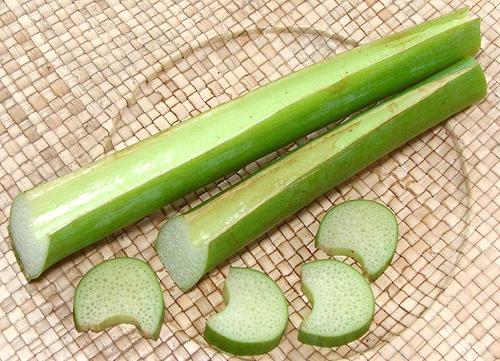 [Bac Ha (Viet - South and U.S.); Doc Mung, Roc Mung (Viet - North); Indian Taro; Hasu-imo, Ryukyu (Japan); Manto de Eva (Chile) Colocasia gigantea]
This plant is native to Southeast Asia, and is thought to be a natural cross between Alocasia macrorrhizos and Colocasia esculenta (Taro). The stems are eaten as a vegetable in Southeast Asia, particularly Vietnam, and in Japan. The root corms of this species are fibrous and inedible, and the leaves are not particularly edible either.
More on Arums.

---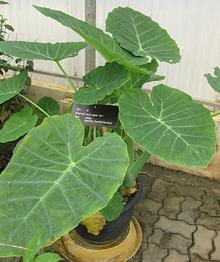 The photo to the left shows what the plant looks like. Some varieties can grow leaves up to 5 feet across. The stems are peeled and used as slices or short segments, mostly in soups. They have little flavor, but are valued for their foamy sponge-like texture and ability to hold a lot of the broth flavor. Photo by Raffi Kojian distributed under license Creative Commons Attribution-ShareAlike v3.0 Unported.

Buying: Colocasia stems are available in Asian markets that serve a Southeast Asian community. The photo specimens was a stem cut into segments for easy handling. The largest segment was 2-1/8 inch across the big end. Purchased from a large Asian market in Los Angeles (San Gabriel) for 2016 US $3.99 / pound. It is very light, so 11 segments averaging 7 inches long weighed only 1-1/8 pound.


am_colostmz 160613 www.clovegarden.com
© Andrew Grygus - agryg@clovegarden.com - Photos on this page not otherwise credited are © cg1.- Linking to and non-commercial use of this page permitted.
---