---
Salt Pork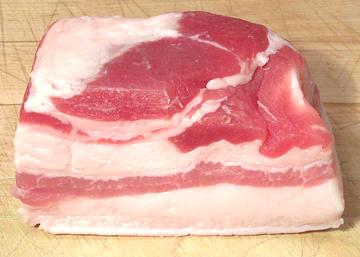 Salt Pork is brined pork belly, the same as bacon but not smoked, and with the skin on. It was formerly a very popular ingredient in American cuisine, but fell out of favor due to the American Heart Association's misguided vendetta against the natural fats we evolved with in favor of deadly trans fats. Back in the mid 19th century Americans practically lived on pig fat, and congestive heart disease was almost unknown then. This was actually pointed out by an elderly cardiologist at the kick-off for the AHA's "Heart Healthy Diet".
Now that much of the AHA's "modern medical knowledge" has been totallhy discredited, and even the role of saturated fats is being strongly re-examined, cooks can feel free to return to this flavorful traditional ingredient. Pig fat, by the way, has a better health profile than butter, even by the AHA's reconning - much less saturated fat than butter (44% vs 65%) and more of the healthy monounsaturated fats (45% vs 30%).
More on Cuts of Pork and Pork Products.

---



Today, most Americans are familiar with this product only in the form of the one tiny piece included in a can of "pork and beans".

Buying: Hormel brand is fairly available, particularly in markets serving Mexican or central and eastern European communities. It comes vacuum packed in 12 ounce blocks. Ingredients: Cured with water, salt, sugar, dextrose, sodium erythorbate, sodium nitrite.

Storage: Salt pork today has much less salt than it did back in the 19th century and needs to be refrigerated. Keeping properties are similar to bacon. As with bacon, if you see a touch of mold, cut it off and use rest of the block right away.

Prep: Salt pork is generally cut to the size you will use and simmered in a saucepan of water for 10 minutes or so to cut down the amount of salt. Traditional recipes may call for long soaking or more simmering than is needed today. The skin is normally left on.

Cooking: Use as per recipe.

Subst: Pork belly and a little salt.
ap_saltpz* 100726 - www.clovegarden.com
©Andrew Grygus - agryg@clovegaden.com - Photos on this page not otherwise credited are © cg1 - Linking to and non-commercial use of this page permitted
---