---
Lamb Kidneys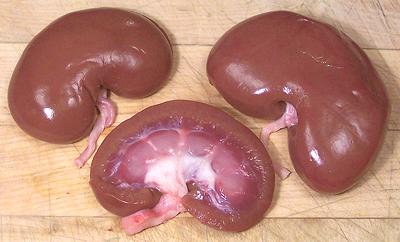 [Gurda (Hindi)]
Lamb kidneys are eaten by pretty much every culture where lamb is a significant item in the diet. They are similar in size, shape and taste and are generally interchangeable with pig kidneys (unless you're a Muslim or observant Jew). The photo specimens were 3-3/4 inches long and weighed 3-3/4 ounces each.
More on Lamb Innnards.

---



Buying: These can be found in markets serving communities from countries that use a lot of lamb: Turkey, Armenia, Middle East, North Africa, Pakistan, etc. They should not have a strong odor.

Prep: Split kidneys lengthwise as shown in photo above. Cut out the white fat and any attached plumbing.
as_kidneyz 091011 - www.clovegarden.com
©Andrew Grygus - agryg@clovegarden.com - Photos on this page not otherwise credited © cg1 - Linking to and non-commercial use of this page permitted
---