---
Lamb Shanks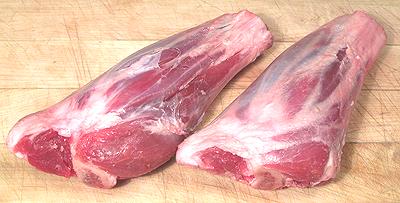 Lamb shanks are popular in all lamb eating cultures. The meat is flavorful and there's plenty of connective tissue to make for good soups. The photo specimens were 7 inches long, 2-1/2 inches wide and 1-3/4 inches thick at the big end. They weighed 11-1/2 ounces each.
More on Lamb / Mutton Cuts.

---



Buying: These can be found in markets serving communities from countries that use a lot of lamb: Turkey, Armenia, Middle East, North Africa, Pakistan, etc.

Prep: This depends on the recipe. Some recipes call for the meat to be removed from the bones. The meat is actually quite easy to remove from the bone. The outer membrane and fat are much easier to remove from the meat after it has been removed from the bone.

While often not part of the recipe, the bones should be browned well in the oven and used to make lamb stock (see Recipe).

Yield: One pound of shanks will yield 7.8 ounces of uncooked meat (49%).

Cooking: Shank meat is well exercised and there's a lot of tough connective tissue, so long wet cooking is in order, at least 1/2 hour off the bone or 1 hour on the bone.
as_shankz 091015 - www.clovegarden.com
©Andrew Grygus - agryg@clovegarden.com - Photos on this page not otherwise credited © cg1 - Linking to and non-commercial use of this page permitted
---