---
Agati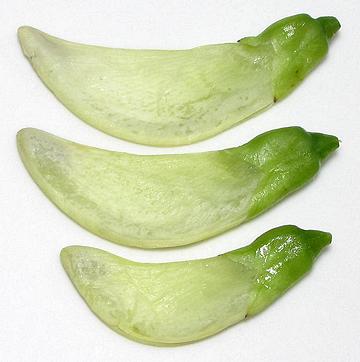 [Dok Kae (Thai); So dua (Viet); Agati, Agasti, agase, heta, gaach-munga (India); Bunga turi, Kembang turi (Indonesia); Sesbania grandiflorra (White) | Doc sano (Thai); Dien dien gai, Dien thanh gai (Viet); Danchi, Dunchi (India) Sesbania bispinosa (Yellow)]
Native to Southeast Asia and tropical India, flowers of this plant are often used as a vegetable throughout Southeast Asia. In Thailand flowers are cooked in curries and served raw with a fish sauce dip. In India and Sri Lanka young pods and leaves are also used. These trees require hot humid growing conditions and are extremely sensitive to frost, so are not grown in California.
The photo specimens, neatly laid out in a foam tray and frozen, were purchased from the frozen food cases of a Philippine market in Los Angeles. They were about 2-1/4 inches long on average. They are also available here packed in brine in jars.
A small yellow species, S. bispinosa, is also used in Vietnam and Thailand but is less popular. That species is grown widely in India for non-culinary purposes. A red variety of the larger S. grandiflorra also exists.
More on Varieties of Bean.
---
In Southeast Asia these buds are used raw, steamed and in curries. The taste of raw ones is rather bitter, but this is much lightened by cooking.

Buying: In Southeast Asia these flower buds are sold fresh, laid out neatly in trays. Here in Los Angeles they can be found the same way, but frozen. The photo to the left is of a 5.3 ounce tray purchased from a Philippine market in Los Angeles - from Thailand and improperly labeled "Squash Flower Whole". They were typically 2-1/4 inches long.

Cooking: These need only short cooking. To serve as an appetizer or vegetable side they can be steamed. They are often included in curries, usually sour curries without coconut, added at the last minute. They can be stuffed, often with a shrimp and pork paste, battered and fried in the manner of tempura.


In the photo to the left are buds that were packed in a light brine. From Thailand, the jar was labeled "Pickled Dok Kae in Brine". Ingred: Dok-Kae, water, salt, citric acid, sodium benzoate, sodium metabisulfite. The taste was lightly floral, with just a touch of bitterness. Length of the brined buds varied from 1-1/2 inches to 3-1/2 inches, with some of the more mature buds starting to open.

These could be served as an appetizer pickle, with or without a dip. They were purchased from an large Asian market in Los Angeles.

bp_agatiz 120626 - www.clovegarden.com
©Andrew Grygus - agryg@clovegarden.com - Photos on this page not otherwise credited are © cg1 - Linking to and non-commercial use of this page permitted
---