---
Fenugreek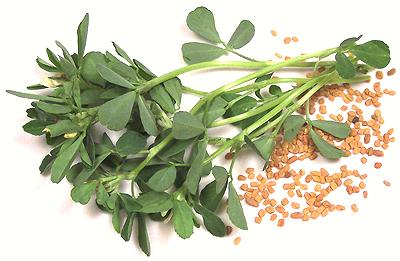 [Methi (Hindi, Urdu, etc.); Shanbalileh (Persia); Hilbeh (Arabic); Utakbo suneli (Georgia); Trigonella foenum-graecum also T. cerulea]

This plant, a bean related to clover, has apparently been cultivated for over 6000 years in the Middle East and was also well known to the ancient Greeks and Egyptians. Both the aromatic seeds and the greens are used.

In India, fenugreek seed is toasted and included in a number of important masalas (spice mixes), and it is also used in the cuisines of the Middle East, Persia and Greece. The fresh green leaves and stems are used as an herb in these same regions, and dried leaves in Georgia and India.

Fenugreek seed is also considered an important medicinal, particularly for increasing lactation in nursing women.

More on Beans on Herbs on Spices

---



In the United States the most important use for fenugreek seed is in the production of artificial maple syrup, but both the greens and seeds are important in the cuisines of Greece, Bulgaria, Anatolia, North Africa, East Africa, the Middle East, the Indian Subcontinent and as far east as Southeast Asia.

Blue Fenugreek, (Trigonella caerulea) is found in the Alpine regions of Europe where it is used as an herb to flavor bread and cheese. It is little known outside that area, except in Georgia (former Soviet Republic of) where it is much used as a dried herb called Utskho Suneli. This species is not quite as strong as the T. foenum-graecum that is commonly available in North America, but the substitution works well enough.

Buying: Find the fresh herb in markets serving Mediterranean, Middle Eastern, Persian or Indian communities. In the San Fernando Vally it is usually sold as "Shambe" (a corruption of the Persian) and in Artesia it's sold as "Methi" (Indian). Nowhere around here is it sold as "Fenugreek". The seeds can be found on most well stocked spice shelves and will usually be called "Fenugreek".

The Dried Herb is rather rare (I know one market that has it), but it is very easy to pick fresh leaves off the stems and dry them. If you cannot find the the fresh herb, you can easily grow your own from seeds (provided they are reasonably fresh).
bp_fenugz* 100110 - www.clovegarden.com
©Andrew Grygus - agryg@clovegarden.com - Photos on this page not otherwise credited © cg1 - Linking to and non-commercial use of this page permitted
---