---
Long Beans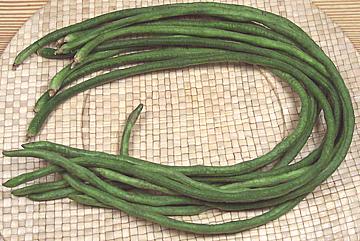 [Asparagus Bean, Yardlong Bean, Snake Bean, Thua fak yao (Thai); Kacang panjang (Malay); Vali, Eeril (India); Dau gok (Cantonese); Sitaw (Philippine); Vigna unguiculata subspecies sesquipedalis]
Unlike it's relative the Black-eyed Pea these beans are grown only for the pod. These pods are much meatier than the black-eye pod, with small seeds spaced far apart. The flavor is quite similar. While often called Yardlong Beans they actually top out at about 28 inches. The photo specimens were typically 3/8 inch in diameter and the longest was 26 inches, but they are commonly a little smaller.
There is also a "white" variety, actually a light yellow-green, but these are less available, more expensive and found only occasionally in large Asian markets. These beans are important to the cuisines of Asia, particularly Southeast Asia, so are widely grown in California.
More on Beans, Peas & Lentils.

---



Long beans are eaten raw in salads, particularly in Thailand, where they will be quite sweet compared to other beans, but they are more commonly cooked, throughout southern India and Southeast Asia.

Buying: Long beans are available in markets serving Southeast Asian communities and around here even in regular produce markets and farmer's markets. Look for fairly narrow beans that are dark green and not at all shriveled. If overripe they will be lighter in color, lumpy and feel hollow. They will keep for up to 5 days loosely wrapped in the refrigerator.

Substitution: Long beans are imperfectly interchangeable with green beans because the size, flavor and texture are significantly different. Long beans cook firmer, have a darker flavor and are distinctly sweet. If you must use green beans adjust the recipe for cooking time as green beans overcook very easily compared to long beans.

Health: Long beans are a very good source of vitamin C, foliate, magnesium and manganese as well as a good source of protein, vitamin A, thiamin, riboflavin, iron, phosphorus, and potassium.
bp_longz 070415 - www.clovegarden.com
©Andrew Grygus - agryg@clovegaren.com - Photos on this page © cg1 - Linking to and non-commercial use of this page permitted
---