---
Chinese Rice Wine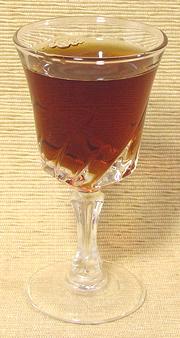 [Huangjiu, Shaoxing wine]
This wine is called for in thousands of Chinese recipes. The most accepted varieties are made in Shaoxing on the eastern coast of China. About 110,000 tons are made every year and it is commonly and economically available in North America. This wine is aged underground for years in large ceramic jars, but it is put up in regular wine bottles for export. Most bottles I've seen here in Los Angeles are labeled Shao Hsing or Shao Hsing Hua Tiao
Huangjiu is made in dry (Gan), semi-dry (Ban Gan), semi-sweet (Ban Tian), sweet (Tian) and extra sweet (Nong Tian). The main export to North America is Dry, with some Semi-dry sold for drinking at special occasions.
For cooking, select a good drinkable wine. Suitable varieties are available here in Los Angeles for between US $3.00 and $4.00 for a 750 ml bottle. More expensive versions in ceramic jars are also available, but more for drinking than for cooking. Select wine with an alcohol content around 17% so it can be stored unrefrigerated. Caution: China also makes some regular grape wines and puts them up in similar bottles, so read the label. Generally, just a tablespoon or two are used in a recipe.

---



Do Not Use Chinese "cooking" wine, available in clear and tinted varieties. This is inferior wine to start with and heavily salted to avoid paying the liquor tax.

Subst: The most acceptable substitute is a dry (Fino) Sherry. Although also made from rice, Japanese Sake is not considered an acceptable substitute.
bv_chinaz 111120 - www.clovegarden.com
©Andrew Grygus - agryg@clovegarden.com - Photos on this page not otherwise attributed are © cg1 - Linking to and non-commercial use of theis page permitted
---