---
Taiwan Bok Choy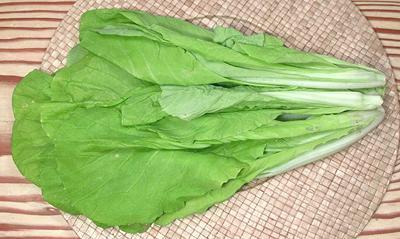 [Taiwan Pak Choy; Brassica rapa Group Chinensis]

A very tender bok choy with light green to slightly yellowish leaves. The stems, which are whiter than those of Shanghai bok choy, are almost as tender as the leaves - it's almost like lettuce. I understand it was recently developed in Taiwan and has just started appearing in markets here. The photo specimens were bought from an Asian market in Los Angeles in a 1 pound 5 ounce bag.

More on Asian Greens.

---



Buying: This green is still not common, even in the Asian markets in Los Angeles, but it does appear now and then..

Storage: Store in the refrigerator loosely bagged in plastic and use as soon as possible - The leaves start to spot immediately and appearance will degrade rapidly.

Prep: It is not necessary to separate the stems from the leaves as they are both rather tender.

Cooking: These greens are used in soups and stir fries. Cooking time should be minimum, just enough to wilt the leaves and stems..
cb_bokchoytwz 100317 - www.clovegarden.com
©Andrew Grygus - agryg@clovegarden.com - Photos on this page not otherwise credited are © cg1 - Linking to and non-commercial use of this page permitted
---