---
Horseradish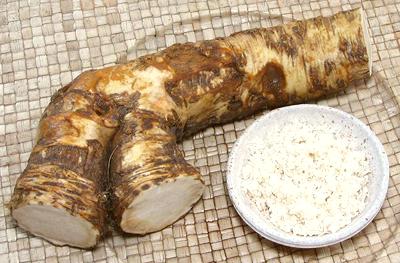 [Meerrettich (German); Seiyo Wasabi (Japan); B. Armoracia rusticana]
This pungent white fleshed root was known in Roman times, probably originating in southeastern Europe. Today it is grown worldwide for use as a condiment, particularly popular in Germany, Poland, Russia and surrounding countries. Actually, about 85% of the worlds supply is grown in the bottomlands surrounding Collinsville, Illinois where the soil is just the way horseradish likes it. A mixture of horseradish, mustard seeds and green food coloring is used as a condiment in Japanese sushi bars, even in Japan, because real Wasabi is so costly and perishable.
More on Cabbage Roots.

---



Buying & Storing: Look for fresh horseradish roots in markets that serve central, northern and eastern European communities including Russia and as far south as the Balkans. Roots should be hard and wet with no trace of decay or softening.

Wrapped loosely in paper and stored in the refrigerator horseradish will last a month or more.

Cooking: Freshly grated horseradish root is added directly to many dishes, including soups, but the most common use is as horseradish sauces. For method and recipes see our Horseradish & Sauces page.
cb_hradz 090311 - www.clovegarden.com
©Andrew Grygus - agryg@clovegarden.com - Photos on this page not otherwise credited are © cg1 - Linking to and non-commercial use of this page permitted
---