---
Tatsoi / Ta Gu Choy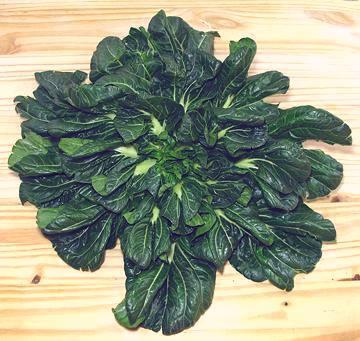 [Rosette Bok/Pak Choy, Chinese Flat Cabbage, Broad-beak Mustard, Spoon Leaf Mustard, Tagu Choy; Ta gu cai, Ta cai, Tah Tsai (China); Tai koo choi (Cantonese); Taasai (Japan); Brassica rapa group narinosa]
This choy is a mildly mustardy turnip green with an unusual growth pattern. It is very flat with the long stemmed spoon shaped leaves growing horizontally from the center.
The photo specimen, purchased from an Asian grower in Los Angeles, was 18 inches in diameter and only about 4 inches high, weighing 14 ounces. The photo below shows an asymmetrical bunch with the stems more exposed. Tatsoi is widely described as a cross between regular bok choy and shanghai (baby) bok choy, but I can not confirm that. I find this a fine general purpose choy. Give the stems a head start over the leaves when cooking.

---



Buying & Storing: This choy is less common than most but is becoming more widely available in markets serving East and Southeast Asian communities, at least here in Los Angeles. Don't look for it in markets flat as it grows, it's always bundled up tight and bagged so it looks very stemmy, thought the top photo specimen was bought at a farmers market and was displayed unbagged and flat.

Look for nice crisp leaves, but if slightly wilted you can refresh it by shaving off the bottom and standing in a inch of water in a cup or bowl for an hour or two. Shake dry, bag loosely and refrigerate - it'll keep up to a week if really fresh, then start to yellow.

Prep & Cooking: As with other choys, wash thoroughly, particularly at the base of the stems. Tear the leaf end from the stem so you can give the stems about a 2 minute head start when cooking so they are tender without cooking the leaves to death.
cb_taguz 090620 - www.clovegarden.com
©Andrew Grygus - agryg@clovegarden.com - All photos on this page not otherwise attributed are © cg1. Linking to and non-commercial use of this page permitted.
---