---
Epazote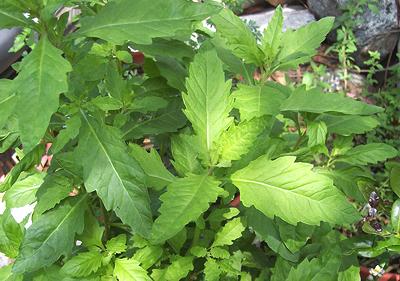 [Stinkweed, Skunkweed, Wormseed, Jesuit's Tea, Mexican Tea, Paico, Herba Sancti Mariæ (Spanish), Chenopodium ambrosioides syn Dysphania ambrosioides]
A common weed in southern Mexico, Central and South America, Epazote is now grown in the warmer parts of North America and sometimes becomes an invasive weed here. Its main culinary use is for flavoring black beans and to a lesser extent other recipes from southern Mexico and Central America. It is reputed to prevent flatulence from eating beans and to relieve a number of medical conditions. An oil extracted from the seeds kills intestinal worms and is also an antispasmodic and abortifacient.
The smell of epazote is quite strong but extremely difficult to describe. Leading spice expert Gernot Katzer says it smells to him like epazote.
More on Amaranths.

---



Buying: If you live in an area where there are a lot of immigrants from southern Mexico and Central America, you'll find this herb available erratically in markets that cater to them. Otherwise, you need to grow it yourself. If you live in a reasonably warm climate, that's easy - it grows enthusiastically and you may end up fighting it as a common weed. It is quite seasonable so will not always be available.

Storing: If fresh, it will keep loosely bagged in the refrigerator for maybe 5 days. Dried epazote is considered "satisfactory" if it is fairly fresh.

Subst: There isn't anything close. Savory is often suggested because it goes well with beans but the flavor is very different.

Health & Nutrition: In large quantities epazote is toxic (as are many medicinal plants), but in the amounts used as a flavoring herb no adverse effects have been reported.
ch_epazoz 090527 - www.clovegarden.com
©Andrew Grygus - agryg@clovegarden.com - Photos on this page not otherwise credited are © cg1 - Linking to and non-commercial use of this page permitted
---