---
Rau Ram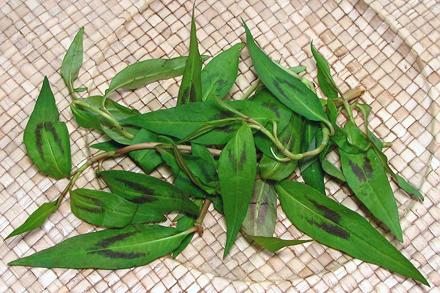 [Vietnamese Coriander Vietnamese mint, Vietnamese cilantro, Cambodian mint, Hot mint; Daun kesum, Daun kesom, Daun laksa (Malay); Phak phai (Thai); Luam laws (Hmong); Phak phaew (Laos); Chi krasang tomhom, Chi pong tea koun (Cambodia); Phak-pai (NE India); Persicaria odorata syn Polygonum odoratum]
This herb is used throughout Southeast Asia, raw in salads and summer rolls, as a garnish and cooked, particularly in soups, but also in some stews. It has a slightly resinous taste and is particularly associated with Vietnamese cuisine. It is considered a suppressant of sexual urges so is often grown by Buddhist monks to make celibacy more tolerable.
This herb is easily recognized from the spearhead shaped leaves with two purplish splotches. If wilted, the herb can be refreshed by total immersion in cool water for about 2 hours. The photo specimens, with leaves up to almost 2-1/2 inches long, were purchased from a large Asian market in Los Angeles.

More on Southeast Asian Herbs.
More on Carnations.
---



Most popular in Vietnam, this herb is used in fresh herb platters, salads, fish soups and fish stews. In Cambodia it is used in Summer Rolls. In Thailand and Laos it is used in raw beef Larb and other Larb. In Malaysia and Singapore it is an essential ingredient in a spicy noodle soup called Laksa.

Buying: Any market serving a Southeast Asian community should have this, as it is extensively grown in California. There are even reports of potted plants in the garden section of Home Depot.

Growing: Fresh stems will root like crazy at the stem nodes. Just set in a tall jar jar of water set on a reasonably sunny counter. It is reported to survive winters as far north as San Francisco.

Subst: There is no satisfactory substitute for this herb. Though some suggest Cilantro I think Culantro would be better.
cn_rauramz 170408 - www.clovegarden.com
©Andrew Grygus - agryg@clovegaden.com - Photos on this page not otherwise credited are © cg1 - Linking to and non-commercial use of this page permitted
---