---
Gochujang Chili Paste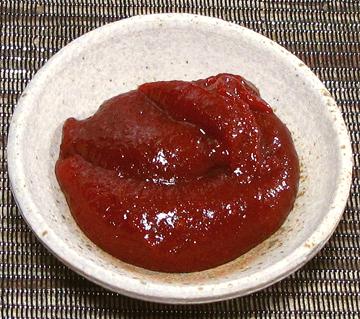 This is the chili sauce of Korea, one of the three essential ingredients in Korean cuisine (the other two are fermented bean paste and soy sauce). This is a fermented paste traditionally made from chilis, rice flour and soybeans. Today it may be made with wheat flour and grains in place of the rice flour, and most don't include soybeans. Processes and ingredients vary, resulting in prices at a local Korean market ranging from 2013 US $3.99 to $7.99 for a 1.1 pound tub. The photo specimen, made in Korea, is made from chili powder, rice, corn syrup, starch syrup, salt, alcohol, fructooligosaccharide. Another I have on hand is made from wheat flour, wheat grains, chili powder, salt, malt syrup, water.
More on Chili Sauces &amp Potions

---



This paste started being made in Korea 18th century when chilis were brought to Korea, probably by Portuguese soldiers assisting China in a war with Japan. Today, Korean cuisine without chilis is unthinkable. It was originally made by adding chili and rice flour to fermenting soybean paste, but soybeans are not much used in this paste today. The method was to put it up in a big pottery jar and leave it out in the sun for months. Gochujang was made at home until around 1970 when commercial production began, and is seldom made at home today - well, perhaps in North Korea.

Buying: Any market serving a Korean community will have this essential paste, in various size tubs and jars. Not being Korean, I buy the smallest tubs, 1.1 pounds. I prefer the version made with rice flour.

Cooking: This paste is used as an ingredient in soups, stews, marinades, dips, sauces and dressings. It contributes relatively little chili heat, so chili powder is often added to dishes as well.
cp_gochujz 130826 www.clovegarden.com
© Andrew Grygus - agryg@clovegarden.com - Photos on this page not otherwise credited are © cg1.- Linking to and non-commercial use of this page permitted.
---