---
Chili Heat & Tolerance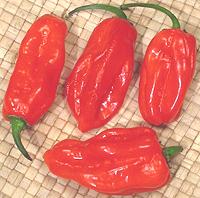 Lets make one thing clear right up front. The hotness of natural chilis can do you no real harm. The pain is fake - it's a nerve receptor thing and no actual damage is being done. Even the incendiary Red Habaneros in the photo will do no actual harm. Birds, lacking the nerve receptor found in mammals, detect no heat at all and feast on chilis.
Persons little exposed to chili hotness will experience mostly pain, which will mask flavors and decrease enjoyment of the food the chilis are included in. Further, the following morning the hapless neophyte will experience "afterburn", reminding him/her of previous suffering.
With frequent exposure to chili heat, the sensitivity of the nerve receptors decreases. A whole new realm of flavor and sensation opens up to those who have paid their dues. New digestive enzymes develop and "afterburn" is just a faded memory.
An excellent way to build up tolerance is to have your lunches at a Thai restaurant. Keep increasing the amount of the table condiments you use until you can order stuff "extra spicy" and enjoy it.
Considerable information, including heat scale and details of specific chili varieties will be found on our Chili Page.
Experience aside, even the most hardened chili hound must observe certain precautions. Chili heat can be intensely painful, even debilitating, but fortunately the pain goes away fairly quickly.
When working with chilis, take great care not to touch sensitive areas, particularly eyes and genitals (yours or anyone else's) until your hands have been thoroughly washed with soap or cleanser. The hotness is oil soluble, so just a water rinse won't do it.
After working with the chilis, not only wash your hands, but also knives and other tools used, as well as the cutting surface, or you may be in for a surprise.
The hotness of chilis varies tremendously. Always sample before going ahead with a recipe. The same type of chili bought from the same bin at the same store can be quite different than it was last week. Some chilis are deliberately atypical. Jalapenos with no heat have been developed so pseudo-Mexican restaurants in New York can advertise "real Jalapeno peppers" without devastating the populace.
The hotness is not from the seeds nor the shell, but from oil droplets on the membranes the seeds are attached to. You can greatly reduce the hotness of a chili by carefully scraping out the membranes. Serranos, for instance, can easily be turned from fiery to blah this way, so don't just automatically scrape or you may be disappointed. Hotness is a major point of using chilis.
To sample the hotness of a chili you can start munching from the tip, which will be very mild, and working up. Another method is to cut a very thin slice from way up near the stem end. This test is definitive.
When serving a mixed crowd, it's best to make the dishes rather mild, and provide hot condiments or sauces for the more experienced. Thai Chili Vinegar Sauce and other Southeast Asian dips and sauces are excellent for this.
cp_heat 100124 - www.clovegarden.com
©Andrew Grygus - agryg@clovegarden.com - Photos on this page not otherwise credited © cg1 - Linking to and non-commercial use of this page permitted
---