---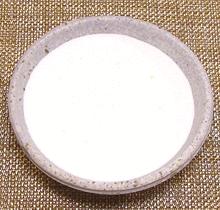 Cream
---
Cream is composed of the butterfat in the milk, with some of the milk included. Cream can be skimmed off the top after unhomoginized milk has been allowed to stand, or, in industrial production, separated in a centrifuge. For economic reasons and for the volume needied it is generally made from cow's milk, but it can also be made from goat or sheep milk.
Cream can be soured in various ways and churned ito butter, but this page deals only with fresh cream. For other products see our Milk & Milk Products page.

---
---

.



Cream is graded depending on how much of the product is butterfat and how much is milk. For convenience in interpreting recipes that were not written for your particular country, we provide these tables.

U.S. Designations

Here are the US Federal guidelines, but the actual designation and percentage may vary from state to state. For instance, Alta Dena "Heavy Whipping Cream" here in Southern California is about 34% butterfat.



Designation
Butterfat


Half & Half
Light Cream
Light Whipping Cream
Heavy Cream
10.5% to 18%
18% to 30%
30% to 36%
36% or more

Canadaian Designations



Designation
Butterfat
Notes


Light Cream
Cerial Cream
Half Cream
Single Cream
Whipping Cream
Whipped Cream
5% to 6%
8% aprox.
10% to 12%
18% to 30%
35%
35%


Used in Coffee
Used in sauces and as a topping
Whipping Cream
Pre-whipped cream (presurized can?)

UK Designations

Note that some of these grades can be "Steralized", or not. I presume "steralized" is something like our "Ultra Pasturized".



Designationn
Butterfat
Notes


Half Cream
Cream /Single Cream
Whipping Cream
Whipped Cream
Double Cream
Extra Thick Double
Clotted Cream
12%
18%
35%
35%
48%
48%
55% to 69%
Uncommon, used in some cocktails.
Used in sauces and as a pudding topping.
Light whipping cream
pre-whipped whipping cream
Heavy whipping cream
Heat treated double cream. spoonable topping.
Served on scones for the "Cream Tea" of Devon and Cornwall

Australian Designations

Australia does not regulate or define grades of cream, so these designations are up to the manufacturers and may vary significantly.



Designation
Butterfat
Notes


Extra light
Light
Pure Cream
Thickened Cream
Single Cream
Double Cream
12% to 12.5%
18% to 20%
35% to 56%
35% to 36.5%
35% aprox
48% to 60%


No thickeners
Thickeners and/or Stabilizers added for whipping.
Pure or Thickened.
.

Swiss Designations

English
German
French
Italian
Butterfat
Coffee Cream
Kaffeerahm
Crème à Café
Panna da caffè
15%
Half Cream
Halbrahm
demi-crème
Mezza panna
15% to 25%
Cream
Full Cream
Whipping Cream
Rahm
Sahne
Vollrahm
Schlagram
Crème
Crème entière
Crème à Fouetter
Panna
Panna intera
Panna de montare
35%
Double Cream
Doppelrahm
Double-crème
doppia panna
45%
da_creamz 131012 - www.clovegarden.com
©Andrew Grygus - agryg@aaxnet.com - photos on this page not otherwise attributed are © cg1. Linking to and non-commercial use of this page permitted.
---