Butter Lettuce - [Butterhead, Boston, Bib or Limestone]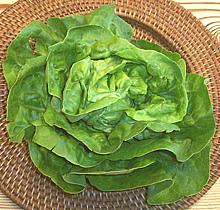 These are very tender loose leaf lettuces often packed in individual plastic containers to protect them from damage. Of the two main varieties, Bib Lettuce is the smaller and considered the more flavorful, but Boston Lettuce is a suitable substitute. Packages I've seen in Southern California do not use either designation but simply call the contents "Butter Lettuce". The package often includes roots and a hydroponic growing matrix to extend shelf life.

Green Leaf is too tender to be a good industrial product but it's a very fine base for quality salads. Plenty of lettuce flavor with very moderate bitterness and good color. The photo specimen, squished a bit flat in shipping, as they always are, was 14 inches wide, 10 inches from stem to tip and weighed 13 ounces.

Iceberg Lettuce - [Crisphead lettuce]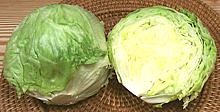 Crisphead is actually the correct name, but nobody calls it that name. This head lettuce is the darling of the lettuce industry and the fast food chains. It's easy to handle and stands up well to processing and shipping abuse. The fast food people like it because it's easy to shred, bulks up a salad well and stays crisp and bulky for quite a while after shredding.
This lettuce was originally (and still is) grown in Salinas, California. It was put on trains, packed with ice and shipped as far as Maine year round, thus called "iceberg lettuce". It was very much welcomed during New England winters.
Crisphead lettuce contains a lot of water and is 1/5th or less nutritious as loose leaf lettuce. It has rather little lettuce flavor or bitterness but can be useful for recipes that call for lettuce wedges and such or where texture is more important than flavor or nutrition. It's also easy to store in the fridge compared to leaf lettuce. The photo specimen, a somewhat smallish one, was 5 inches diameter and weighed 1-1/3 pound.

Not actually lettuce, but a member of the Valerian family.

Very similar to Green Leaf Lettuce except for the color. For taste and texture the two are interchangeable. The color is caused by anthocyanin pigments which are the same antioxidants found in red cabbage and red wine.

Romaine Lettuce - [Cos Lettuce]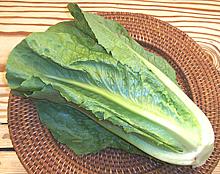 The second most common lettuce in America after Iceberg and the sturdiest of the leaf lettuces. It's shape and stiffness make it relatively easy to handle but it does have quite a bit more lettuce flavor than iceberg does. It is called for by many recipes where the leaf shape and stiffness is desirable. The photo specimen was 13 inches high. It is often used as a foundation layer on a platter with the featured items placed over it.

Pretty much the same as Red Leaf Lettuce except for being all deep red with almost no green. For taste and texture the two are interchangeable. The color is caused by anthocyanin pigments which are the same antioxidants found in red cabbage and red wine.

A-Choy - [Taiwan Lettuce, Chinese Lettuce, Sword Lettuce; Yu Mai Tsai (China)]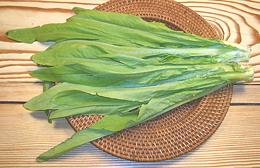 This is the only common leaf lettuce in China, and is actually the crown leaves from Stem Lettuce (see next paragraph). It is popular in stir fries in Taiwan, and is always cooked - raw salads are not eaten in China due to unsanitary growing conditions. This lettuce is now widely available in markets serving a Chinese community - well, it is here in Southern California anyway. It is much like a romaine lettuce, but more bitter

Stem Lettuce - [Celtuce, Celery Lettuce, Asparagus Lettuce, A-Choy Sum, Chinese Lettuce; Wosun, Woju (China); L. sativa var asparagina alt var augustana, var angustata]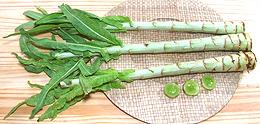 This lettuce is grown mainly for its stem, which is peeled and sliced or diced and used in stir fries. It is also often pickled. The flavor is fairly mild, much like a slightly bitter cucumber, so it's usually paired with stronger flavored items. The photo specimens were about 17 inches long (not counting leaves), 1.6 inches diameter and weighed about 8 ounces each. The form shown with a crown of leaves is how it is generally sold, but you'll notice the tip with the young more tender leaves has been removed. It is sold separately as A-Choy (see above). The older leaves still attached are like Romaine leaves but tougher and more bitter, but they do stand up better to cooking. The Chinese do not eat raw greens for reasons you'd probably rather not dwell on. Details and Cooking.

Tribute Vegetable - [Gong Cai, Gongcai; Mountain Jellyfish, Sound Vegetable; L. sativa var asparagina alt var augustana, var angustata]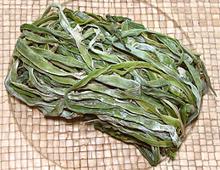 This is Stem Lettuce, shaved and dried. It is called "Mountain Jellyfish" because it is crunchy, like jellyfish, when rehydrated. "Sound Vegetable" comes from the same crunchiness. "Tribute Vegetable" is because someone once gave some to a Chinese emperor as tribute, and the emperor liked it. It is much liked in stir fries, once rehydrated. The photo specimen was purchased from a large Asian market in Los Angeles (Alhambra) for 2016 U.S. $0.50 per 6 ounce package (on sale - expect higher). Details and Cooking.

Wild Lettuce - [prickly lettuce, Lactuca serriola]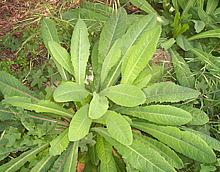 This is where it all came from, a wild plant with a bitter milky sap. When the plant matures it will "bolt", sending up a central stalk topped with a group of small dandelion-like flowers. The bitter sap is a mild opiate, particularly when the lettuce bolts. The photo shows leaves of very young plants, the leaf margins become deeply cut, ragged and pointy looking.
While wild lettuce is much stronger, other loose-leaf lettuces have similar properties. Some years back I observed that the loose-leaf lettuce in a friend's garden had bolted. Connie remarked that it wasn't as good as before but they were still using it. They were also wondering why they were falling asleep right after their salad (served at the end of dinner in their household).
My pigeons used to rip into the wild lettuce, then go and flake out on the roof, often lying upside-down. Unfortunately they can't do that anymore - there are too many hawks now.