Brazil Nut Family - [Lecythidaceae]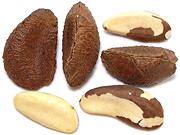 The Brazil Nut family (Lecythidaceae) is a fairly sizeable family and of great importance in some tropical regions. Described here are the varieties I have found sufficient detail on, but there are surely a number of similar varieties producing edible fruit and seeds. The Brazil Nut Family has its own page. Illustration of Paradise Nut Pod and Seed by William Rhind, copyright expired.

Heather Family - [Ericaceae]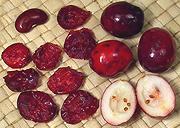 The Heather Family (Ericaceae) is a very large family, containing over 4000 species in 126 genera. It includes a great many flowering plants used as decoratives and landscaping, but also a few culinary species, most notably blueberries and cranberries. The Heather Family has its own page.

Ebony Family - [Ebenaceae]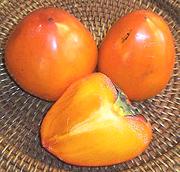 Ebony is a modest size family of tropical and subtropical trees (Ebenaceae) best known for hard wood of dark color, ranging all the way to jet black. The family includes two genera, Euclea, noted for hard dark wood, and Diospyros, noted for hard dark wood, but also for a few species producing edible fruit, most notably persimmons. The Ebony Family has its own page.

Sapote Family - [Sapotaceae]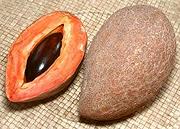 Sapotes have long been important trees in the tropical Americas, Africa and Southeast Asia. They have provided sap of industrial importance, fruit, and wood - hard to extremely hard wood. They range from small to rather large trees. The Sapote Family has its own page.

Kiwi / Chinese Gooseberry Family - [Actinidiaceae]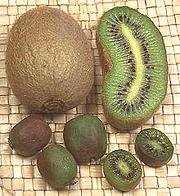 This modest size family of 3 genera and some 360 species of vines shrubs and trees native to temperate and subtropical environments has only a few members of culinary and commercial interest, the Kiwi Fruit. There are also varieties of interest to cats. The Kiwi Family has its own page.

Camellia / Tea Family - [Theaceae]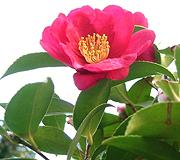 Camellias are well known as decorative flowering shrubs and trees, but they are also of tremendous economic value, particularly to China and India, for both tea and cooking oil. Worldwide, tea is the second most consumed beverage, second only to water. The Camellia Family has its own page.