---
Kantola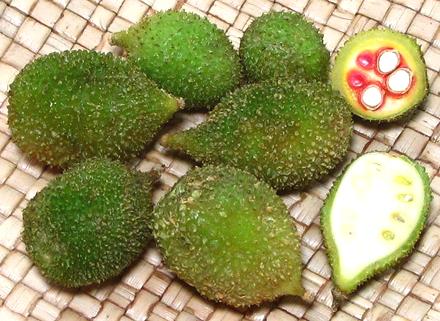 [Spiny Gourd, Teasle gourd; Kankada, Bhat-kerela, Kakrul, Ghi korola, Boda kakara, Aa-kakara-kaya, Kankoda, Thumba, Kartole, Haagala kaayi, Erumapaval (India); Momordica dioica]
This gourd is used as a vegetable all over India and in some parts of Southeast Asia, thus the many names. Usage is similar to Karala (Indian Bitter Melon), but, though Its flavor is similar to karala, it has only a faint hint of the bitterness. It is commonly fried with spices and often served with meats or fish. This gourd also has medicinal uses.
The photo specimens were of varying size, the largest being 1.6 inches long, 1.1 inch diameter and weighing 3/8 ounce. a batch of 16 averaged 0.25 ounces each. The specimen at the upper right is a bit ripe for cooking, but still edible. When fully ripe, the rinds get dry, and they split wide open to expose the seeds and the sweet, pulpy, bright red arils that surround them.
More on Gourds.

---



These are a good tasting vegetable, but the seeds will always be at least a little crunchy. How crunchy depends on how ripe they are - but they are not seeded. The cross section in the photo above shows the most ripe condition that should be cooked.

Buying: I have found these in an Indian market in Los Angeles (Artesia) in October. They seem a bit small, but are entirely usable. They were purchased for 2016 US $6.99 / pound.

Storing: Loosely bagged, they will keep in the fridge for about a week.

Prep: just cut a tiny bit off each end, then slice. they are usually sliced lengthwise into 6, 4 or 2 wedges depending on size.

Cooking: Wedges of kantola cook in about the same time as similarly sized pieces of potato, and the two are often cooked together.

Yield: There is little waste, so yield is nearly 100%.
gd_kantoz 160926 - www.clovegarden.com
©Andrew Grygus - agryg@clovegaden.com - Photos on this page not otherwise credited are © cg1 - Linking to and non-commercial use of this page permitted
---