---
Citron Melon - [Pie melon (U.S.), Tsanna Citrullus lanatus var. citroides]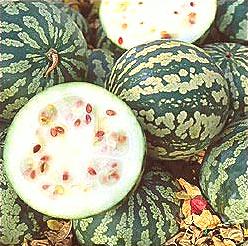 This melon is thought to be ancestral to the Watermelon and originated in Africa. It now grows wild in Baja and Southern California though no one knows how it got there. It is also both cultivated and considered a weed in much of the Southern U.S. though rarely in pure form there due to accidental cross breeding with commercial watermelons.
This melon is not to be confused with the citrus fruit Citron, though they are both used mainly candied or as preserves and pickles. Citron melon is very high in pectin so is a desirable ingredient for preserves. The flesh is much stiffer and more strongly flavored than that of watermelon.
Photo by Kazvorpal distributed under GNU Free Documentation License version 1.2 or later.

---
ml_citronz 071005
©Andrew Grygus - ajg@aaxnet.com - Linking and non-commercial use permitted
---