Watershield - [Chún cài (China); Junsai (Japan); Annonaceae of family Cabombaceae]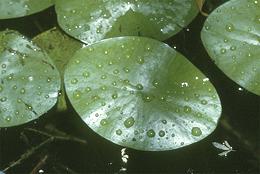 This water plant is native to North America, northern South America, East Asia and India. Flowering is interesting. On the first day the flower stalks extend out of the water bearing female flowers. At the end of the day the stalk withdraws, and on the following day it extends again with male flowers. This plant is cultivated in China, and is used in the popular Hangzhou dish "West Lake Water Shield Soup". Photo by USDA-NRCS PLANTS Database = Public Domain .

Water Lily - [genus Nymphaea (more than 35 species) of family Nymphaeaceae]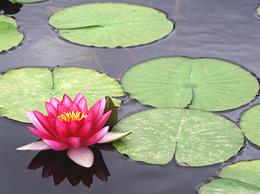 Water lilies are native to the Americas, Europe, Asia, Africa and Australia. While some are called "Lotus", they are not at all related to the true Lotus (genus Nelumbo). The two are actually easy to tell apart. Water lily leaves float on the surface and generally have a deep notch, usually extending in to the leaf stem. Lotus leaves are held above the water and are completely circular with a central stem (no notch). Lotus also has a wide conical seed capsule often seen in dried flower arrangements.
Young leaves and flower buds can be cooked and eaten. The seeds are nutritious, high in starch, protein and oil. They can be roasted and popped, or ground into flour.
The Egyptian Blue Water Lily (Egyptian Blue Lotus; Nymphaea caerulea) flowers have a lightly psychoactive effect, mainly as a sedative. Petals and whole flowers of this plant are used to make teas and to flavor wine and martinis. One species, Nymphaea odorata subsp. tuberosa, native to the southeastern United States, produces potato-like tubers which can be cooked and eaten. Photo © i0137 .

Foxnut - [Gorgon Nut; Makhana (Hindi/Punjabi); Makhana, Nikori (Assam); Onibas, Onibasu (Japan); Euryale ferox of family Nymphaeaceae]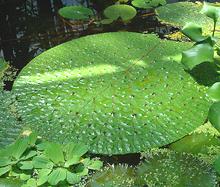 Seeds of this plant have been used as human food since at least 750,000 years ago. They are currently an important crop in India and China, and also used in Korea, Japan and the Russian Far East. The pads, which can grow to more than 3 feet across, are green and spiky on top, purple on the bottom.
In northern India, the seeds are collected in the late summer and early autumn. They may be eaten raw or cooked, and are often roasted and popped for use as a snack. They may be ground into flour used to make a porridge called makhane ki kheer which is often presented as a religious offering. In China the seeds are used in medicinal soups which are supposed to improve male potency and retard aging. In India, a technique for growing this plant as a field crop has recently been developed. photo by Montilre distributed under license Creative Commons Attribution-ShareAlike v3.0 Unported.

Victoria - [Victoria amazonica, Victoria cruziana, Victoria mattogrossensis]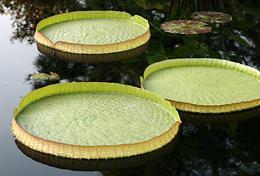 Native to South American river basins, these water lily have striking rimmed floating leaves sometimes exceeding 9 feet across. V. amzonica is native to the Amazon basin of Brazil and the only slightly smaller V. cruziana is native to the Paraná river basin of Paraguay. V. mattogrossensis is almost identical to V. cruziana but has larger seeds and lives in the Pantanal wetlands of central South America. I have not seen any references to using the seeds as food, but know of no evidence that they haven't been. These plants are very popular in botanical gardens. Photo © i0136 .