---
Thai Lemon Basil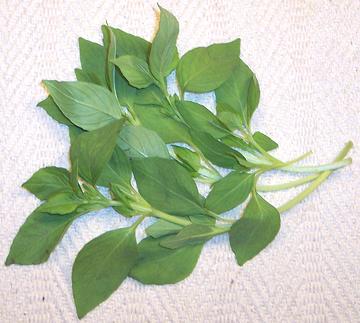 [Bai Maeng-lak (Thai); Ocimum. citriodorum]
This is one of the basils that has become common in Southern California, often labeled "Thai Basil". It is characterized by a citrus fragrance, smaller light green pointed leaves and a relatively light flavor - and bad keeping properties (maybe 4 days if you take good care of it). It often alternates with Thai Purple Basil in the markets. The stronger more aromatic flavor of the purple is better for most Thai cooking while the Lemon Basil is used mainly for salads and some soups.
More on Basils.

---



Buying: Thai Lemon Basil can be found in markets that cater to a Southeast Asian community. If a little wilted this basil can be refreshed by cutting the stem ends off and immersing completely in cold water for about an hour, then dry in your salad spinner.

Storing: If fresh, Thai Lemon Basil can be kept loosely bagged in plastic in the refrigerator for 2 to 4 days. Freezing is not a good option because recipes usually call for it as fresh whole leaves. Dried it's completely worthless.
mt_basillz 090524 - www.clovegarden.com
©Andrew Grygus - agryg@clovegarden.com - Photos on this page not otherwise credited are © cg1 - Linking to and non-commercial use of this page permitted
---