---
Za'atar - Herb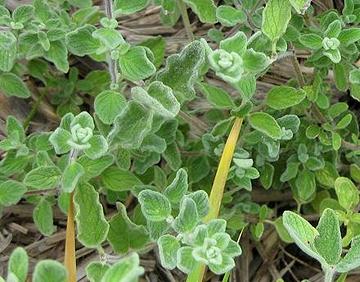 [Lebanese oregano, Syrian oregano; Ezov (Hebrew); Bible hyssop (mistranslation); Origanum syriacum]
This herb is extremely important in the Levant and Middle East, where it is native. A spice mix based on it is also called Za'atar. It is a small shrub, up to about 3 feet high with small white or pale pink flowers. The herb is usually used dried, but may also be used fresh in the Middle East, Levant and Morocco. Traditionally, Za'atar has been gathered wild, but the demand is now so high it has been declared endangered in Israel, and some is now being cultivated. Photo by Raffi Kojian distributed under license Creative Commons Attribution-Share Alike 3.0 Unported.
Subst: Neither the fresh herb nor the dried is much available in North America, so we have to fake it up (imperfectly) with a mix of Thyme, Oregano and Marjoram. For either fresh or dried, about 4 Tablespoons Thyme, 1 Tablespoon Oregano, 1 Tablespoon Marjoram.
More on Mint Family.

Za'atar - Spice Mix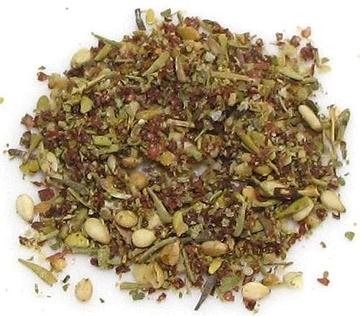 This is a very important spice mix in the Levant and Middle East. Supposedly, it is based on the herb Za'atar, but most today is made from Thyme, Oregano and Marjoram, because the supply of Za'atar is no longer sufficient. Other ingredients are: toasted Sesame Seeds, Sumac for sourness, and usually Salt. Some commercial versions may included toasted wheat flour - not good for Celiacs. Some versions also include savory, cumin, coriander or fennel, and one distinctly Palestinian version includes Caraway seeds. In the region, this mix may be also made with fresh herbs. The photo specimen is from our Lebanese style Za'atar - Herb Mix recipe.
More on Salt & Seasonings.

---



Buying: Fresh, or even dried Za'atar herb is very difficult to find in North America, but various "Za'atar" spice mixes will be found in just about any market serving a Levantine, Near Eastern or Armenian community. Most of them are not very good, and they are faked up due to the shortage of the Za'atar herb. so why buy them when you can so easily make a better one using our Za'atar - Herb Mix recipe?

Uses: The spice mix is often presented as a table condiment. Various regional breads may be dipped in Olive Oil, and then into a Za'atar mix. The mixes are also used as seasoning and rubs for many dishes.
mt_zaatz 160303 - www.clovegarden.com
©Andrew Grygus - agryg@clovegaden.com - Photos on this page not otherwise credited are © cg1 - Linking to and non-commercial use of this page permitted
---