Bilimbi - [Tree Cucumber; Averrhoa bilimbi]

This Southeast Asian tree related to the Carambola is now grown in the tropics around the world, but not in the United States because the winters are too cold even in Florida. The fruit is yellow when ripe and five sided like the Carambola but not to such an extreme degree. It may be from 1-1/2 to 4 inches long, ovoid or nearly cylindrical. The photo specimen on the left was 2.8 inches long, 1.1 inches diameter and weighed 1 ounce. These were shipped frozen from the Philippines and were photographed still frozen because they collapse when thawed.
The fruit is at least as sour as a lemon. It's too tart to eat raw but is used to make jams and beverages. In Costa Rica it's used to make relishes eaten with rice and beans. In Indonesia it's dried, smoked and sold as flavoring Asam Sunti, used for the sour flavor in recipes in that region. It's used fresh for the same purpose in Malaysia. Bilimbi can be found in the frozen foods section of markets serving a Southeast Asian population, particularly Filipino.

Star Fruit / Carambola - [Coromandel Gooseberry, Kamranga; Averrhoa carambola]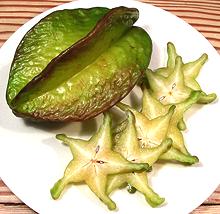 This tree, native to Southeast Asia, has been widely planted in tropical and subtropical parts of the world. There are two commonly sold varieties, tart and sweet, which are difficult to tell apart by sight but the sweet ones tend to have thicker ribs. The main use of Carambola in the U.S. is as a decorative addition to fruit salads and similar dishes. Carambola is more cold tolerant than Bilimbi so is grown commercially in South Florida and in Hawaii. The photo specimen was typical of what we get here in Southern California, 6-3/4 inches long, 4 inches across and weighed 14-3/4 ounces. It was very juicy and tart-sweet, a bit more tart than a tart apple but not at all unpleasant. Details and Cooking.

Oca - [New Zealand Yam, Oxalis tuberosa]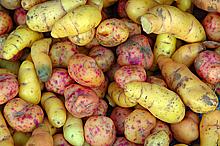 This native of the Andean highlands of South America has been introduced to other parts of the world as an alternative to the potato. Outside its home range it has been most successful in New Zealand where a pink variety is grown. Unlike the potato, the leaves and young shoots of the Oca can be eaten as well as the tubers. Oca tubers can be eaten raw, lightly cooked or fully cooked and their response to cooking, from crunchy to soft, is similar to carrots. After harvest, tubers are often left in the sun for a while which reduces the oxalic acid content of the skin and sweetens them. This plant does well in harsh climates and with poor soil, but will only set tubers in temperate areas where there is a sufficient difference in day length from season to season. Photo licensed under GNU Free Documentation License v1.2 or later.

Wood Sorrel - [Oxalis, Oxalis stricta and other Oxallis species]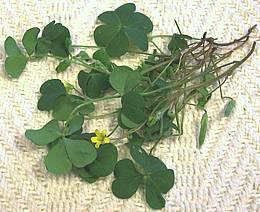 A common weed found in moist sunny areas of the garden, oxalis has almost exactly the same taste as the unrelated Sorrel. It can be used to spice up salads but should not be used in large quantity because of the high oxalic acid content. It should also not be eaten too often, because oxalic acid can interfere with calcium absorption. There are some 900 species found over most of the world, but the photo specimen is O. stricta, the common North American weed. Another species, Redwood Sorrel (O. oregana) native to northern California, Washington, Oregon and into British Columbia has larger leaves, larger white or violet flowers and is a little less tart. Many species with large and decorative flowers are sold in plant nurseries for garden use. Common Wood Sorrel (O. acetosella) is found in most of Europe and Scurvy Grass Sorrel, a South American species (O. enneaphylla), was formerly used by sailors to ward off the vitamin deficiency disease scurvy.

Bermuda Sorrel - [Bermuda buttercup, African wood-sorrel, Buttercup oxalis, Cape sorrel, English weed, Goat's-foot, Sourgrass, Soursob, Soursop (English); Suring (Afrikaans); Oxalis pes-caprae]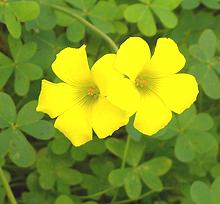 Native to South Africa, this plant has become a noxious weed in many regions of the world, including coastal California and especially Australia. In moderate quantities the foliage is palatable, safe to eat, and in South Africa used in traditional soups. It is usually harmless to grazing livestock, but in Australia it grows so profusely it can be hazardous to them. The root tubers are also edible, raw or cooked, and if eaten raw in sufficient quantity have been used to expel tapeworm, and perhaps some other worms. Photo by MathKnight distributed under license Creative Commons Attribution 3.0 Unported