---
Chicken Powder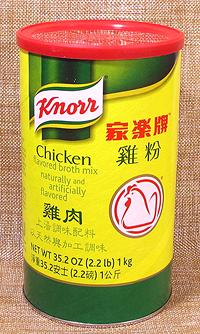 [Chicken Flavored Broth Mix]
East and Southeast Asia recipes depend a lot of chicken stock being continuously available, but that isn't always practical in this day when servants and stay at home cooks are increasingly scarce. This is particularly so for Southeast Asians now living in North America. This has made Chicken Powder an essential ingredient for cobbling up small amounts of stock quickly. Due to it's common availability it has also found use as a general seasoning.
Some of the Asian brands are entirely artificial, completely unrelated to actual chickens, so it is a good idea to read the ingredients list before purchasing. We favor Knorr brand, which has some actual chicken products in it. The photo example, purchased from a large Asian market in Los Angeles, was Product of USA, distributed by Unilever Canada. Ing: salt, monosodium glutamate, corn syrup solids, dried chicken meat, corn starch, chicken fat, sugar, hydrolized soy protein, hydrolized corn protein, calcium silicate (anticaking agent), natural and artificial flavors (egg), yeast extract (barley), hydrolized wheat protein, disodium guanylate, disodium inosinate, tapioca dextrin, dextrose, disodium phosphate, autolyzed yeast extract, spices, maltodextrin, whey (milk), caramel color, modified corn starch, onion powder.
More on Sauces & Condiments

---



Buying: I have found this in the large Asian markets here in Los Angles. Apparently it expected to be used quite often, because the store had only the 2.2 pound (1 kg) size in Knorr and two other brands. The Knorr cost 2017 US $7.99 for the 2.2 pound can.

Broth: One slightly rounded teaspoon per cup of boiling water. Adjust to taste.
sa_chkpowd 160413 - www.clovegarden.com
©Andrew Grygus - agryg@clovegarden.com - Photos on this page not otherwise credited © cg1 - Linking to and non-commercial use of this page permitted
---