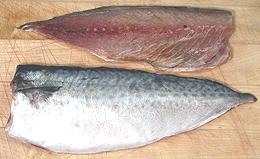 Buying: Salted fish is easiest to find in Korean markets in the freezer cases, but should also be found in Japanese, Chinese and Southeast Asian markets. The traditional form shown above is now rare. It's generally put up as fillets in flat plastic envelopes, without head, tail, or backbone - but usually with the skin on. Mackerel (easily identified by its blue color and broad stripes) is most common.

Storing: Salt fish can be kept refrigerated for a week or so, but for longer storage it should be frozen. In a home freezer compartment it should be kept in the back farthest from the door and should not be kept more than a few months. Because of the salt it is never completely frozen and temperature fluctuations cause alternate melting and freezing, which may eventually result in rancidity.

Cooking: Unlike fully dried salt fish, this form has much less salt and may be rinsed before using but is never soaked for long. Salt fish is often used in stir fries, particularly ones that are predominantly vegetable and need a bit of a flavor contrast. It is usually fried in the oil until lightly browned, then removed and set aside while the other ingredients are fried, and added back in the last minutes.