---
Scad Family
[family Carangidae]
Scad belong to the same family as the mild and delectable Pompanos and the stronger flavored Jacks. They resemble mackerel in flavor, but milder and without so much oil. These fish are popular in the Philippines, so are most likely to be found in a fish market serving a Filipino community.
More on Fish Varieties (very big page).

---
Bigeye Scad - [Coulihou (Caribbean); Akula (Hawaii); Matan, Matangbaka (Philippine); Ikan Selar (Malay); Purse-eyed Scad, Goggle-eyed Scad; Selar crumenophthalmus | similar - Oxeye Scad; Matangbaka (Philippine); Selar boops]


This is a "circumtropical" fish found all the way around the world above and below the equator, but its interpretation of the "tropical" part is a bit loose since it's found as far north as Nova Scotia. It's a nocturnal fish traveling in schools of hundreds of thousands and can grow to 27 inches, but the photo specimen was 11 inches and weighed 9 ounces. This fish is kosher and is not threatened. Details and Cooking.

Hardtail Scad - [Torpedo Scad; Megalaspis cordyla]


This Indo-West Pacific fish is found from East Africa to Japan and very common around Indonesia. It can grow to 31 inches and nearly 9 pounds but the photo specimen was 11-1/2 inches and weighed 10 ounces. This is a highly commercial fish in Southeast Asia. Kosher and not threatened. Details and Cooking.

Mackerel Scad - [Cigarfish, Cigarminow (small); Galunggong (Philippine); Round Scad; Decapterus macarellus]


This fish, found worldwide, is not related to Mackerel, but can be treated similarly except when the Mackerel's oiliness is important (smoking, pickling). This fish can grow to 18 inches but the photo specimen was 14-3/4 inches long and weighed 1 pound 2-3/8 ounces. These fish have just enough scales to be kosher. Details and Cooking.

Round Scad - This is an iformal designation for a group of mackerel shaped scads, all of the genus (Decapterus), including, among others:
Mackerel Scad (D. macarellus)
Japanese Scad (D. maruadsi)
Shortfin Scad (D. macrosoma)
Round Scad (D. punctatus)
Indian Scad (D. russelli).
Shortfin Scad - [Round Scad; Decapterus macrosoma]

This Indo-Pacific scad is also found in the East Pacific from the coast of Baja California to Northern Peru. They can grow to over 14 inches, but the ones popular here (photo - California wild caught) are about 6-1/2 inches and weigh 2 ounces. Details and Cooking.

Yellowstripe Scad - [Yellowstripe Trevally, Salay Salay; Selaroides leptolepis ]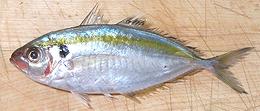 This is one of a dozen or so similar small, deep bodied Scad called "Salay Salay" in the Philippines. These Indo-Pacific fish are found from the Persian Gulf to the Philippines, north to the southern tip of Japan and south to northern Australia. they can reach 8-5/8 inches but are commonly 6 inches. The photo specimen was 6 inches long and weighed 1-3/4 ounces. This fish is fished commercially, and is IUCN Red Listed NE (Not Evaluated). Details and Cooking.

Yellowtail Scad - [Salay-salay; Atule mate]


This Indo-Pacific fish is found from the east coast of Africa to Hawaii. These fish can grow to nearly 12 inches, but the photo specimen was 8-1/2 inches and weighed 6-1/2 ounces. This is a minor commercial catch and is IUCN Red Listed NE (Not Evaluated). Details and Cooking.


sf_scadz 110313 - www.clovegarden.com
©Andrew Grygus - agryg@clovegarden.com - Photos on this page not otherwise credited are © cg1 - Linking to and non-commercial use of this page permitted
---