---
Shea Nut / Shea Butter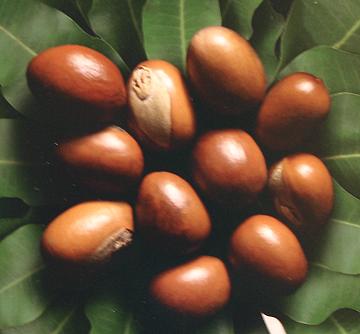 [Shi Tree; Shiyiri, Shisu (Mali); Karité (French); Ghariti (Senegal); Gonja (Niger-Congo); Vitellaria paradoxa obs. Butyrospermum parkii]
This fruit tree is native across equatorial Africa (not quite touching the coast on either east or west), but Turkey is now also a major grower. The flesh of the fruit (about 2-1/4 inches long) is tart, edible, and nutritious, but rather thin, surrounding a large seed. The seed is the primary interest, as it yields a large amount of oil. This oil, very high in saturated and monounsaturated fats, is called shea butter. It is solid at a cool room temperature, but this solidity is quite variable depending on the saturated / monounsaturated ratio provided by individual trees. Some separates, so liquid oil (mostly monounsaturated oleic acid) can be siphoned off.
Unrefined Shea Butter has an antioxidaent content similar to olives, with a profile similar to green tea. In the West, shea butter is used mainly for cosmetics, but in equatorial Africa it is a major cooking oil, and is also used to make soap. IUCN Red List VU (Vulnerable). Photo by LC-Seminar Uni Hohenheim contributed to the Public Domain.
---
Shea butter is traditionally made by hand, a very labor intensive process. The seeds are shelled out of the fruit, then cleaned, followed by crushing and grinding, then separation by simmering water. While this is still done in the villages of Africa, commercial processing for export is increasingly mechanized and often uses hexane extraction. Photo by Cathkidston distributed under license Creative Commons Attribution-ShareAlike v3.0 Unported.
Buying: Cans, Jars and Bags of Shea Butter are easily purchased on the Internet. It is available in Virgin and Naturally Refined varieties. Most is specifically sold for use as an emollient for cosmetics and as a body lotion and moisturizer, but better grades could also be used for cooking.
Storing: Given its composition, this should be a very stable oil, so, stored in a sealed container away from heat and sunlight, it should last a year.
Cooking: Given its composition, this should be a fairly high temperature frying oil with good durability.
Soap: In its native range, and by artisan soap makers, this oil is used as an ingredient in soaps, usually as a minor constituent because it as a fair amount of unsaponifiable components that would make the soap softer and reduce its cleaning power.

There is a proposed grading system. Personally, I'd probably choose Grade B for cooking, unless I was deliberately replicating African village cooking.
A Raw: Unrefined and extracted with water. This will look like whipped butter, but may have a grayish cast. It has a nutty aroma.
B Refined: This grade would be lighter in color and with less aroma.
C Highly Refined: This grade would be pure white with no noticeable aroma, no contaminants and almost no vitamins. Hexane or other solvents will have been used for extraction.
D Lower Grade: The lowest grade without contaminants.
E Lowest Grade: This grade will have contaminants.
so_sheaz 161108 - www.clovegarden.com
©Andrew Grygus - agryg@aaxnet.com - photos on this page © cg1 - Linking to and non-commercial use of this page permitted
---