---
Acorn Squash - [#4750/51/52, C. Pepo]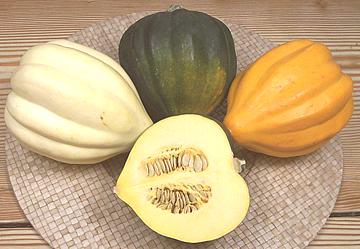 This popular winter squash is available year round throughout North America. It's Generally a very dark green with an orange patch where it rested on the ground (#4750) but White (#4752) and Gold (#4751) varieties are also recognized. See also the Carnival Squash which is basically a highly colorful acorn squash. This squash is popular for baking, stuffing and soup, but don't overcook or it can become mushy. The green photo specimen was 4-5/8 inches in diameter and weighed 1-1/2 pounds.

---



Buy: Best from July through November, squash should be hard, heavy for their size and under 3 pounds (larger may be stringy). The skin should be very dark green and there will be a patch of orange on one side (orange mottling indicates age). Skin should be smooth and silky but not shiny which indicates picked unripe and there should be no soft spots whatever.

Cook: Cut in half lengthwise and remove seeds and strings. If you are not strong you may need a large knife or Chinese cleaver knife you can drive in with a soft face hammer. Cooks Illustrated recommends microwaving for about 20 minutes at high power - otherwise, bake cut side up at 400°F/200°C until soft through - generally about 1 hour 15 minutes. Steaming and boiling are necessary for some recipes but must be done with care to minimize damage to flavor and texture.

Store: Do not refrigerate. It will keep up to a month in a cool dark place. Once cut it must be refrigerated and used quickly.
sq_acornz 070911
©Andrew Grygus - ajg@aaxnet.com - Linking and non-commercial use permitted
---