---
Tempeh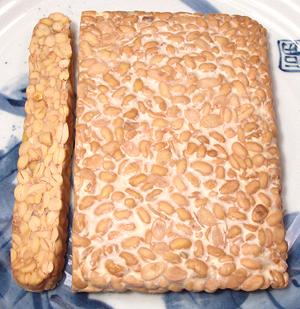 A specialty of Indonesia, this product is made by fermenting cooked soybeans with a Rhizopus mold. It is favored by some vegetarians as a meat substitute in all kinds of recipes. In my opinion it doesn't resemble meat in texture, taste or in any other way. In the late 1970s it was the "great white hope" of vegans as a non-animal source of vitamin B12. That didn't work out - the B12 came from insect (animal) contamination and vanished under North American sanitary processing conditions.
During the late 1970s William Shurtleff & Akiko Aoyagi were promoting tempeh as a superfood of the future and urging natural food enthusiasts to set up manufacturing. It didn't catch on with a wide audience, but is still made in North America, mostly by small operations. That easily available in the Asian markets in Los Angeles is shipped frozen from Asia.
More on Bean Products.

---



Buying: This product is fairly common and can be found in the frozen food sections of markets serving an Asian community. It is also provided by various natural food vendors in various locations.

Storage: Keep it frozen
bp_tempehz 121211 - www.clovegarden.com
©Andrew Grygus - agryg@clovegarden.com - All photos on this page not otherwise credited are &copy cg1 - Linking to and non-commercial use of this page permitted
---