Ogeechee Lime - [White Tupelo, River lime, Sour gum, Wild lime; Nyssa ogeche of family Cornaceae]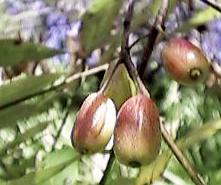 This small to medium tree is native to a band extending from the southern tip of South Carolina expanding diagonally across Georgia into northern Florida, including the eastern half of the Panhandle. It requires very moist sites, preferring river banks, and can grow to nearly 50 feet high. The fruit is usually a little over 1-1/2 inches long, with thick, juicy, very sour flesh and a single seed. It is used to make preserves and beverages. The tree has been heavily planted along the lower Apalachicola River (southwestern Georgia and central Florida Panhandle) for commercially valuable tupelo honey produced by bees. Photo by FloridaSwampFlower (cropped) distributed under license Creative Commons Attribution-ShareAlike 3.0 Unported.

Cornelian Cherry - [Dogberry, European Cornel, Dogwood; Shan zhu yu (China); Cornus mas of family Cornaceae]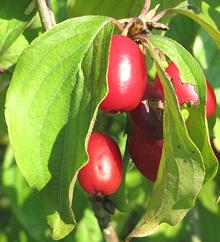 This shrub or small tree is native to southern Europe from France through Turkey, Armenia, Georgia and Azerbaijan, and also Iran, Lebanon, Syria and China. The bright red or yellow fruit is usually a little over 3/4 inche long and 5/8 inch diameter with one seed, but in Ukraine they have commercially grown varieties that produce fruit over 1-1/2 inches long.
The fruit is sour and not fully ripe until it has fallen from the tree. The ripe flavor has been described as a mix of cranberry and sour cherry. Through its range, the fruit is used to flavor alcoholic and non-alcoholic beverages. It is particularly popular in Georgia, used to make various preserves and as an ingredient in sauces. The fruit is eaten with salt as a snack in Turkey and Iran. Photo by AnRo0002 (cropped) contributed to the Public Domain.

Kousa Dogwood - [Chinese Dogwood, Korean Dogwood, Japanese Dogwood; Cornus kousa of family Cornaceae]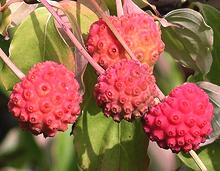 This small tree is native to East Asia, Sikkim and Bhutan. It is widely planted as a decorative and has become naturalized in Hawaii, Connecticut and New York. The pinkish red fruit is a compound berry and usually about 1 inch diameter, but can grow to 1-1/2 inches.
The fruit is sweet and the custard-like pulp is considered delicious, though the skin is tough and the pulp seedy. It is sometimes made into wine.Young leaves can be cooked as greens. Photo (cropped) contributed to the Public Domain.