General & History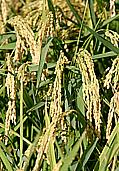 Domesticated Asian (as distinct from African) rice derives from Asian wild red rice, Oryza rufipogon, which still exists and is a difficult to eradicate pest in commercial crops. This wild rice can still crossbreed with domesticated rice providing any number of intentional and unintentional hybrids. Oryza rufipogon is thought native to India and Southeast Asia, but the oldest accepted evidence of rice cultivation is from China, about 5000 BC. Photo © i0042.
African rice (Oryza glaberrima), also known as "upland rice", can withstand drier conditions and is resistant to pests found in Africa. Domesticated versions are closer to wild than Asian rice, yields are much lower and harvesting is more difficult. It has been isolated from Asian rice for so long it is extremely difficult to hybridize the two, though that has recently been accomplished. Hybrids are called NERICA (New Rice for Africa) and are now being widely planted for improved yields. African rice is grown mainly in humid parts of West Africa.
Arab traders brought Asian rice from India to the Near East, and then on to Spain. From Spain it was taken to Italy, but the rest of Europe is unsuitable for rice cultivation.
Rice came to the U.S. in colonial days when a Spanish ship out of Madagascar was captured and diverted to England. Damaged in a storm it put into Charleston, South Carolina for repairs. The captain thanked his hosts with a bag of Patna type rice, which was successfully planted and from it grew a major rice growing and exporting business. Unfortunately for South Carolina, its growing practices were very much dependant on slave labor and rice production declined rapidly after the Civil war. Today Carolina Rice is grown mainly in Arkansas and Texas.
California is the second largest US rice producer after Arkansas, much of which is specialty Asian varieties for export. Over 40% of California production is exported, with Japan getting about half that despite their insistence that California rice is inferior. Turkey, Jordan, Taiwan, Uzbekistan and South Korea get most of the rest in that order.
While rice consumption is relatively low in the U.S. it has been rising to the point that around 75% of households now serve rice at least once a week, up from around 45% in the mid 70s. This large increase is partially due to immigration from rice eating cultures who not only consume rice themselves but influence the diversity of what other Americans eat.
Rice has, until recently been little exported, most being consumed in the area where it is grown. Most rice eating cultures don't even like the types or rice that come from other areas. The exception has been the U.S. which started exporting quantities of rice in colonial days. Today several other countries are major exporters. In order of volume are: Thailand, Vietnam, United States, India and Pakistan. In general, exporting countries export the types of rice their own people prefer.
The US imports over 333,000 metric tons of rice per year, most of which is Thai Jasmine rice, with Indian Basmati a distant second.
Forms & Processing
Paddy Rice is rice as threshed from the grass and includes husk and bran. The final weight of milled white rice is about 68% of it's weight as paddy rice.
Brown Rice is rice that has gone through a mill to remove the husks but the bran coating and germ are still on the grains. Brown rice is more nutritious than white milled rice (fiber, protein and vitamins) and it has a nutty flavor and chewy texture. On the downside, the flavor is less delicate than white rice making it unsuitable for many recipes, cooking time is much longer, and it is far more vulnerable to rancidity. Storage time is just a few months while white rice is practically eternal.
White Rice is brown rice run through an additional milling process to remove the bran and germ. Most of the rice consumption in all countries is white rice, preferred for its delicate flavor and short cooking time. When white rice first became cheap enough for normal people to buy it it resulted in the vitamin deficiency disease beriberi.
Converted Rice - is just Uncle Ben's trade name for parboiled rice (see next item).
Parboiled Rice [converted rice]
In this process the outer husk is still in place when the grains are soaked, steamed and then dried. After this it is milled into white rice the usual way but is somewhat yellow in color. This process drives some of the nutrients from the bran coat into the rice body making a white rice with more vitamins, and makes the rice more durable during the milling process. Rice processed this

This process was originally adopted in India to improve cheaper medium grain grades of rice. Parboiled grains stay fluffy and very separate even if the rice it is prepared from would be stickier. Parboiled rice is now much used in the U.S. as restaurant rice because it is less vulnerable to improper cooking. It also holds up well in canned and processed foods. "Uncle Ben's" is a popular American retail brand.

American parboiled rice is processed to a very pale color and cooks out almost pure white. Indian parboiled rice is darker, cooks out with more color and has a little more of a brown rice flavor. It's probably also more nutritious. The photo specimens are of Indian parboiled rice, 0.250 inch long and 0.097 inch wide (6.4 x 2.5 mm).


"Instant" Rice (Precooked Rice)
Rice (usually American long grain) that has been fully cooked and then dehydrated before packaging. It's easily identified because The grains are soft, gritty in texture and many are broken. After "cooking" for the recommended time of 5 minutes the grains are still a bit dry, slightly gritty, stiff in the center and a bit mushy on the outside. Give it 10 minutes and it's stiff all the way through. The fragrance and flavor are similar to styrofoam. Inferior in nutrition, flavor and texture, this product is unsuitable for just about any cuisine save possibly that of New Jersey, but you can microwave it. "Minute Rice" is a well known brand.
Coated Rice is white rice that has been given a coating of talc as a preservative. This was once common practice to protect rice on long sea voyages but can now be found only in a few ethnic rice varieties, mainly from South America. This rice must be clearly labeled as coated and must be thoroughly rinsed before use.
Puffed Rice is made by two processes, "oven puffing" where the grains are exposed to a very high temperature, and "gun puffing" where the grains are heated moderately under high pressure. When the pressure is released the rice puffs up. The two processes provide a somewhat different product. Puffed rice is very popular in India for use in sweets and deserts. They use the oven method and fuel the ovens with burning rubber tires to get a high enough temperature - with a serious negative impact on health and environment.
Beaten Rice (Rice Flakes, Pounded Rice) are popular in India. The grains are flattened into flakes and dried making a product that cooks very quickly.
Cream of Rice (Ground Rice) is much more course than rice flour and is used for porridge like dishes.
Rice Flour is generally white rice ground very fine, or it can be ground from puffed rice (easier) or from brown rice, but brown rice flour will become rancid much more quickly, just as with whole wheat flour. Rice flour is used in confections, as a thickening agent in industrial processed food and in a number of ethnic cuisines. Because it varies significantly depending on the type of rice used it is safest to get a variety of the same ethnicity as the recipes you will be cooking.
Varieties
Rice comes in three general types (disregarding African rice) O. glaberrima which is a different species and not marketed due to low yield):
Long Grain (indica) properly cooked is "fluffy" with very separate grains. This is the predominant rice in India, Thailand and major parts of China.
Medium Grain (japonica) produces a bowl of rice with grains that adhere to each other making it easier to pick up lumps of it with chopsticks.
Short Grain (japonica) includes varieties known as "glutenous rice" (which contains no gluten), "sticky rice", "waxy rice" and "sweet rice". Short grain rice cooks up sticky.
The controlling factor is the ratio between two starches, amylose and amylopectin with long grain high in amylose and short grain high in easily gelatinized amylopectin.
Listed here are common varieties available in Southern California and descriptions of some uncommon ones so you can select a suitable substitute.. I keep these versions of white rice on hand: Aged Basmati, Jasmine, Kokuho Rose (a California medium grain rice I prefer to Calrose) and short grained Sweet Rice. I also generally have one or another variety of brown rice.
African Rice

Varieties of rice grown in West and West-Central Africa - a completely different species from Asian rice (Oryza glaberrima rather than Oryza sativa). This rice is almost never seen in the U.S. because it is low yield and not enough is grown to supply Africa. It comes in many varieties from short grain to long grain and from nearly white to very dark brown. Photo from the USDA ARS GRIN (Germplasm Resources Information Network) is of variety Bankoram from Ghana.

American Basmati generally refers to Popcorn Rice, a basmati-Carolina hybrid, but it can also refer to real basmati rice grown in the US by boutique growers.
American Long Grain - see Carolina Rice.
Arborio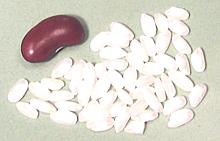 Italian medium grain rice used for risotto. Gourmets and Purists are unable to make risotto without arborio (or even harder to get risotto rice varieties) but normal humans may attempt it with Calrose. 18% amilosio starch. Do not rinse rice for risotto, the outside starch becomes part of the texture.

Baldo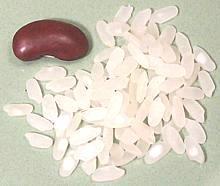 Italian, medium grain rice developed from Arborio crossed with Stirpe 136 rice.and now popular in most Mediterranian countries. It is particularly favored by restaurants because it holds up better than Arborio to the practice of partially cooking and then chilling risotto to be finish cooked when customers order it. The photo specimens were typically 0.290 inch long by 0.120 inch wide (7.4 x 3.0 mm).

Basmati: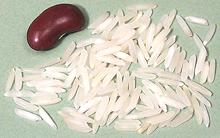 India - the "Queen of Fragrance" is a long grain distinctly aromatic rice that stands up well to robust flavors. The grains are very long and properly cooked stay separate and fluffy. A number of varieties are imported from India and Pakistan so adjustment of the amount of water may be needed one to another. The photo specimens were typically 0.290 inch long by 0.055 inch wide (7.4 x 1.4 mm) The grains expand greatly when cooked, particularly in length. The photo specimens cooked out to about 1/2 inch long.
Aged Basmati is preferred to new because the grains stay even more separate. A prime grade 50 year old basmati can sell at over $100/pound to connoisseurs, but most is aged just a year or two and is very affordable in the U.S., though considered expensive in India. Japanese and Koreans do not like basmati rice one bit, aged or not.
So-called American Basmati is a hybrid of basmati and Carolina rice considered to lack true basmati character (see Popcorn Rice). Due to an attempt by a Texas firm to patent the name "basmati" and various other imitations the government of India is now attempting to define a genetic profile for real basmati.

Bhutanese red rice - the staple of Bhutan in the Himalayas, this is a short grain rice sold "brown" with the reddish brown bran layers still on. It is said to cook more quickly than other brow rice varieties. subst: Brown Calrose.
Botan - see sweet rice.
Black Forbidden Rice - China - said to once have been reserved exclusively for the emperor, this almost black medium grain rice turns indigo when cooked. It is sold only "brown" to preserve the color and texture.
Black Japonica - California - actually a blend of two Oriental rice varieties, one black and one reddish brown. The two are grown together, harvested together and sold "brown".
Black Thai - Thailand - a short grain rice which turns purple when cooked and colors other ingredients it is cooked with. It has a "nut-like" flavor and is a bit sticky when cooked. It is sold as a "brown rice" to preserve the unique color.
Brown Rice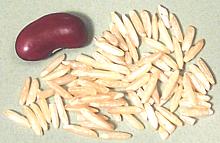 Any rice type can be "brown rice". This is rice with the outer husk removed but the bran coating not milled off. The photo specimens are a very long basmati type rice.
For most of the history of rice growing white rice was available only to the upper classes, so when efficient milling machines became available everyone wanted white, and soon the vitamin B1 deficiency disease beriberi became widespread. Brown rice has a much higher vitamin content but it's flavor is too robust to work well in most recipes designed for white rice. Beriberi from white rice is not a problem in populations that have a diverse diet.
Calrose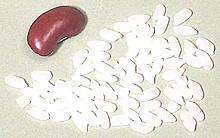 Grown in California and Australia, this is a medium grain rice suitable for sushi and other Japanese recipes, or practically anywhere a medium grained rice is required. While both the Japanese and Koreans describe this rice as quite inferior to native grown varieties, Japan buys more than one third of the California crop.

Camolino - Egyptian rice milled with oil - not common in North American markets. For more details see Egyptian Rice.
Cargo Rice - a term some manufacturiers use for brown rice.
Carnaroli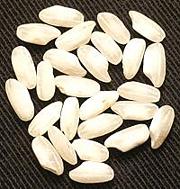 Grown in a small region of northern Italy between Milan and Turin, Carnaroli is perhaps the most prestigious Italian risotto rice and is generally reserved for the most refined dishes. Compared to arborio the grains are larger and while they become exceptionally creamy on the outside they hold their shape at the core, making for a better texture. Photo by Badagnani distributed under Creative Commons Attribution 3.0 Unported

Carolina: A Patna type rice formerly a major crop in South Carolina from where much was exported to England in colonial days, then re-exported to Holland, Germany and France. After the American Revolution shipments no longer cleared through England but went direct. The growing methods used in South Carolina were heavily dependant on slave labor so the crop went into rapid decline after the Civil War. Today "Carolina" rice is grown mainly in Arkansas, Texas, Louisiana and South America.
Della Rice - see Popcorn Rice.
Egyptian Rice
Rice cultivation is thought to have started in Egypt in the 7th century CE. Today most commonly produced are very high yielding japonica varieties: Giza 177 (short thick grain), Sakha 101/102/103/104 (short thick grain) or Giza 178 (short thin grain). These may be milled as natural polished white rice, white Camolino rice (polished in oil - not common in North American markets) or brown rice (called "cargo rice" by Egyptian manufacturers).
The thick grain varieties are exported to Turkey, the Levant, Arabia and Southern California (where we have a large Near Eastern population). The thin grain variety is exported mainly to Eastern and Southeastern Europe, and to East and West Africa.
I have found the thick grained varieties to be medium sticky with very good flavor and slightly chewy texture. They take about 2 cups of water per cup of rice.
Forbidden Rice - see Black Forbidden Rice.
Glutinous Rice - see Sweet Rice.
Granza - see Spanish Rice.
Idli Rice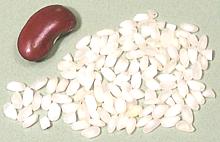 A small short grain parboiled rice used to make small steamed cakes called idli in southern India. The photo specimens were typically 0.195 inch long and 0.085 inch wide (5.0 x 2.2 mm). This is a parboiled rice so if you were to cook it normally it would be a little shorter time than regular parboiled rice due to the small grains, but this rice is generally not cooked normally.
Idli rice is usually soaked for 6 hours, ground, combined with urad dal and other ingredients, fermented and then steamed in a special idli steamer. Subst: arborio rice or similar short or medium grain risotto rice, or a Japonica type rice. An amylopectin content of 80% or higher is needed. Long grain rice is 78% or less.

Iranian Rice - [var. Domsiah (black end), Binam, Hasani, Salari, Ambarboo, Sang Tarom, Hasan Sarai]
Domsiah is the most prestigious of the Iranian rice varieties. It is a highly aromatic very long grain basmati type rice with a rather low yield (less than 1/2 a high yield rice). It's also vulnerable to stem borer insects, fungus and has harvesting problems (weak stem). The other varieties listed above are similar and have similar problems but together account for 80% of Iranian production due to customer preference. Development of high yield varieties continues but so far has failed to maintain the aromatic qualities of the genuine article.
Jasmine Rice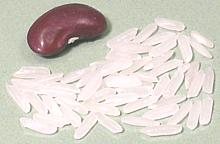 Long grain and distinctly aromatic rice preferred in much of Southeast Asia and the Philippines. Sometimes called "Thai basmati", it remains fluffy with separate grains (though not quite as fluffy as basmati) and is an ideal rice for serving plain with Asian dishes. 1/3 cup makes about 1 cup cooked. The photo specimens were typically 0.308 inches long and 0.070 inches wide (7.8 x 1.8 mm).

Japanese Rice - a generic term applied to any number of medium grain East Asian rice varieties. Examples of California grown "Japanese Rice" are Kokuho Rose and Calrose.
Kokuho Rose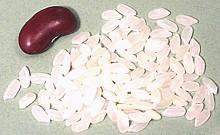 A Japanese style medium grain rice developed by Koda Farms of South Dos Palos, California. I definitely prefer this rice to Calrose. It can be found in most of the Korean markets in California. The photo specimens were typically 0.240 inch long and 0.120 inch wide (6.1 x 3.0 mm)

Lundberg - California - a wide variety of rices are grown organically by the Lundberg family for the "health conscious" community.
Mochi Rice - see Sweet Rice.
Nano Rice - see Risotto Rice.
Paella Rice - see Spanish Rice.
Parboiled Rice - see Parboiled Rice in the "Forms and Processing" section above.
Patna - India - a long grain rice grown near the city of Patna in north eastern India. It is similar to Basmati but much less aromatic. Once widely exported, Patna became somewhat of a generic term for long grain rice. A Patna type rice was the was first widely cultivated in the U.S. as Carolina Rice. Use Patna rice where the rice will be distinctly spiced and seasoned, the more expensive Basmati where the rice will stand on its own.
Pecan Rice - see Wild Pecan Rice.
Piedmont Rice - see Risotto Rice.
Pinipig - a beaten short grain rice used in the Philppines for deserts and drinks.
Popcorn Rice - [American Basmati, Della, Texmati]
A hybrid of basmati and Carolina rice grown in Louisiana and Texas, this aromatic long grain rice is reputed to have the aroma of popcorn, thus the name. It is generally considered to lack true basmati character.
Texas based RiceTec Inc. was granted a patent on the name "Basmati" based on this hybrid. The patent was challenged by India and the USPTO invalidated all the grain-specific claims. This prevented RiceTec from interfering with Indian exports but left them free to produce "similar or superior grains" in the US.
Purple Thai Rice - see Black Thai Rice.
Red Rice
These are varieties of "brown rice" that are very reddish in color rather than brown. They are sold with the bran layer still intact to preserve the color and provide a nutty flavor. Like brown rice, they take a longer cooking time than white rice.



Himalayan Red Rice - a long grain aromatic basmati variety sold "brown". The bran has a reddish brown color.

Indian / Sri Lankan Red
This rice is grown in southern India and the nearby island nation of Sri Lanka. Flavor is quite good and texture has just a trace of crunchiness to it. An excellent choice when plain brown rice is just too plain. Cook 1 cup to 2-1/4 cups of water for about 45 minutes. The photo specimens were 0.285 inch long and 0.075 inch wide (7.2 x 1.9 mm).


Red Thai - Thailand long grain rice with a reddish brown bran and a "nut-like" flavor. This is sold as a "brown" rice with the bran on to preserve the color and flavor.
---
Risotto Rice - Any of a number of Italian varieties, all short grain (Arborio, Carnaroli, Roma, Baldo, Padano, Vialone Nano) that absorb a lot of water and develop a creamy coating. Do not rinse rice for risotto, the starch on the outside becomes part of the texture.
Roma Rice - see Risotto Rice.
Samba Rice
Traditional rice of Sri Lanka and southern India. There are a number of varieties but those most available in the US are Seeraga Samba and Muthu Samba (a parboiled rice).



Muthu Samba
A tiny grained parboiled rice. Most available in the US is from Sri Lanka. This rice has, due to the parboiling, absorbed a notably strong aroma from the husks. I don't find this objectionable, but then I know it's normal. Some have been quite taken aback and thought the rice somehow spoiled and the aroma offensive. One who did, after experimenting, found it objectionable plain or made into idlis but quite to her liking when used to make dosas. Cook 1 cup to 2 cups water, maybe a touch more. This rice cooks into separate non-sticky grains. The photo specimens were typically 0.165 inch long and 0.070 inch wide (4.2 x 1.8 mm).


Seeraga Samba
A very tiny grained aromatic rice grown in the Indian province of Tamilnadu and preferred for making Biriyani. The most expensive rice grown in Tamilnadu, it is named after Seera (Jeera,Cumin) because the tiny grains are thought to resemble cumin seed. The photo specimens were typically 0.180 inch long and 0.085 inch wide (4.6 x 2.0 mm). Cook 1 cup to 1-3/4 cup water. This rice cooks into fluffy very separate grains and I find it a very fine rice for serving plain.

---
Spanish Rice - any of several Spanish varieties used for Paella (Granza, Valencia). subst: risotto rice.
Sticky Rice - see Sweet Rice.
Sushi Rice - see Sweet Rice, but in California sushi is more often made with Calrose rice.
Sweet Rice - (sticky rice, glutinous rice, sushi rice, waxy rice, botan rice, mochi rice, Japanese sweet rice, pearl rice) a very short grained rice popular throughout Asia particularly for wraps and sweets. It is not actually sweet but is often sweetened when included in confections. It absorbs a lot of water and the starch becomes gelatinous and sticky when cooked. subst: risotto rice.
Texmati - see Popcorn Rice.
Thai Basmati - see Jasmine Rice.
Valencia - see Spanish Rice.
Vialone Nano (Nano) - see Risotto Rice.
Waxy Rice - see Sweet Rice.
Wehani: A long grain aromatic basmati type rice developed by the Lundberg Family in California. It is sold only as "brown" rice, is a light reddish brown and tends to split lengthwise when cooked, much as American wild rice does.
Wild Rice - American: - [Zizania palustris, Zizania aquatica]

The seed of a marsh grass native to North America (there are also a species (Z. latifolia) that grow in Manchuria). Traditionally it was harvested by Americans Indians, particularly in the Great Lakes region of the US and Canada, who thrashed it into canoes. It sold at such high prices it was usually cut 4 to 1 with regular rice when used.
Recently plant geneticists developed a non-shattering variety suitable for growing in commercial paddies - and the natives are unhappy. California and Minnesota now provide the bulk of wild rice production. Though the natural varieties are still considered superior in flavor and texture they no longer fetch so high a price. There is also now some production in Australia and Hungary. The photo specimens are of paddy grown grains. Size varies widely with the largest grains about 0.480 inch long and 0.075 inch wide (12.2 x 1.9 mm). Like regular rice, wild rice has no gluten and is safe for celiacs.

Wild Rice - Asian: various varieties of Oryza rufipogon and hybrids. These are a difficult to eradicate crop pest of no commercial value but are used in genetic development. The seed heads of these varieties tend to shatter (spill their seeds) before they can be harvested.
Wild Pecan Rice: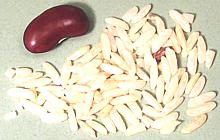 Not wild and no pecans - it's a hybrid long grain rice that owes most of it's character to incomplete milling. While not a brown rice it still has a fair amount of bran left giving it a nutty taste and aroma. The aroma and taste reminded the developer of the wild pecans that grew in the area, thus the name. It is also available in fully milled white rice form where it still retains some of its character. The photo specimens were 0,290 inch long and .075 inch wide (7.4 x 1.9 mm). This rice is available on-line in 5 and 10 pound bags for about $2.90 / pound vs. the same mill's long grain white at $1.90 / pound. Of course you can pay a lot more in the tiny decorative boxes in the markets.

Ethnic Preferences
Thailand: Most Thais use long grain rice similar to Indian basmati. The preferred variety is Jasmine rice which is cooked without salt because it will be eaten with food containing salty fermented fish sauce and other salty seasonings. In the north, areas influenced by Laos use short grained sweet rice instead, which is eaten with the fingers.
Italy and Spain prefer a medium grain rice such as Arborio cooked to a creamy consistency, generally mixed with other ingredients during the cooking.
India, Pakistan, Sri Lanka and Burma prefer a long grain rice cooked relatively dry and fluffy with salt. This may be a Patna type rice or preferably the more expensive Basmati. Rice is cooked with salt since it will be served with non-salty food.
Malaysia, Indonesia and Vietnam prefer a long grained rice like the Thai Jasmine cooked medium dry and fluffy. They cook it without salt because it will be eaten with food made salty by fish sauce, shrimp sauce, bean sauce or similar.
Japan and Korea prefer short grain rice cooked without salt. The rice must have firm distinctly separate grains but they must adhere to each other sufficiently to eat with chopsticks. Calrose will do for Americans but in Korea and Japan it is considered inferior to local varieties.
Laos: Laotians prefer a very short grained sticky rice that in other countries would be used mainly for sweets and wrapped snacks. This rice must stick together very well because a lump of rice held in the fingers is used as an eating utensil. True sweet rice is reasonably available in the US now.
Turkey: A long grain rice is used for pilafs and medium grain for soups. In the U.S. one or another variety of Indian Basmati will be used.
Health & Nutrition
Cooked white rice contains just over 100 calories per cup, and brown rice just a couple more. Rice is high in carbohydrates, gluten free, very low in fat and sodium and has about the best protein balance of any grain with all 8 essential amino acids present in reasonable proportions.
There are few risks involved with rice beyond slipping on thrown rice at a wedding (a custom adopted from India). If left out too long cooked rice will sour but not generally become toxic.
Update: Rice from the US Southern States has been found a bit high in arsenic, probably from fertilization with chicken droppings. You did know chickens and turkeys were (and some may still be) fed arsenec, right? Makes 'em grow faster. Extent of risk is under evaluation by the FDA. California, Thai and Indian rice have normal arsenic levels.
Brown rice is more nutritious than white rice since the bran layers contain protein, calcium, phosphorus, potassium, B vitamins, fiber and vitamin E (and some toxins), while the white part is mostly just starch. When a cheap milling process was developed rice subsistent people wanted white rice just like that rich people had long enjoyed.
Unfortunately, this resulted in the debilitating B vitamin deficiency disease beriberi. A nutritional fix was found, but the medical profession back then was so hung up on microbial theories of disease doctors continued to search for "the real cause" long after.
Beriberi was a serious problem in the southeast U.S. as well, so the US Food and Drug Administration requires "enrichment" of white rice with niacin, thiamin and iron. This is washed off if you rinse the rice which is why the package says "don't rinse". Recipes say "do rinse" (for better texture) and few of us are so rice subsistent the loss will make much difference.
Rice flour is used for baked goods and otherwise as a substitute for wheat flour for the gluten intolerant. Unfortunately, without gluten it can not make a risen dough bread.
Links