---
Kachampuli "Vinegar"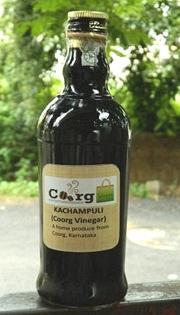 [Kaachambuli]
This is the "vinegar" of the Kodava (Coorg) people in southwest India. It is made from slightly fermented juice of Gummi-Gutta fruit, simmered down to a very dark reddish-purple syrup - very sour, but also fruity. It is on hand in just about every Kodava kitchen, and sold commercially in the region, but not much elsewhere. Image from Coorg Shoppe (they ship internationally).
This is made by piling very ripe Gummi-Gutta fruit in a straining basket and setting it out over a pan for a few days until all the juice has seeped out of the fruit and into the pan. The amber juice is them put in a very deep (because it foams a lot) clay pot and simmered down until it reaches a syrup consistency. By this time it will have become a dark red-purple color. It is then put up in glass jars or bottles.
More on Vinegars & Souring Agents

---






The photo to the left shows ripe Gummi-Gutta (Garcinia gummi-gutta formerly Garcinia cambogia) fruit (shape varies). This fruit is also dried and used as a souring agent in Kerala to the southeast of Coorg.

Buying: This product is pretty much unavailable in North America. Same for the fruit, which is deep tropical and can't be grown reliabey even in southern Florida - and it's pretty picky about where it grows in the deep tropics too. Bottles can be ordered on-line from Coorg sources, and may get through U.S. Customs.

Storing: Once you have some, it will last for years in a sealed bottle. It slowly looses its fruitiness, but the sourness stays with it.

Cooking: Kachampuli is used mainly for meat (especially pork) and fish dishes. It is usually added near the end of cooking.

Substitutes: These have been suggested. The Essential Kodava Cookbook was written by two Kodava ladies who were brought up in Kodagu (Coorg). Shalini lives there and has made Kachampuli from ripe fruit.

Malt Vinegar: (The Essential Kodava Cookbook) Use best quality.

Dried Gummi-Gutta: (Shalini) Known as "fish tamarind" or kudampuli in Kerala state. Soak in hot water 1/2 hour and use the water. Adjust water in recipe to compensate. - or - Soak in hot water until softened, then grind and strain. Simmer down until you get a syrup. Not as fruity as the real thing, but similarly colored and sour.

Lime Juice: (Shalini) No color, but pretty good substitute for finishing meat dishes.

Tamarind Extract: (Shalini) Good for vegetable and fish dishes.

Malt or Cane Vinegar: (Shalini) Good for drier meat dishes that don't contain coconut. I would strongly recommend Datu Puti Sukang Iloco Native Vinegar (sugarcane juice vinegar) from the Philippines. It has excellent flavor and a good dark color, available in just about all Philippine markets. Note that you should use 1-1/2 times as much vinegar as Kachampuli as it is not as strong.

Kokum: (Shalini). Soaked and reduced to paste and strained as for dried Gummi-Gutta (above), or simply cook dried chunks in the recipe and remove them before serving. Good for fish and vegetable recipes. Black Kokum is easily available in Indian markets here in North America.
so_kaachz 150330 - www.clovegarden.com
©Andrew Grygus - agryg@clovegarden.com - Photos on this page not otherwise credited © cg1 - Linking to and non-commercial use of this page permitted
---