1/2
8
3
2-1/2

2
12
5
1
------
3
1/4
10
8
c
oz
cl
oz

T
oz
c
t
----
c
c
5in
oz
Corn Kernels (1)
Onion
Garlic
Chipotle Chili
in Adobo Sauce (2)
Olive Oil
Diced Tomatoes (3)
Stock, light (4)
Salt
-- Garnishes
Asedero Cheese (5)
Cilantro, Chopped
Tortillas, Corn
Avocado, ripe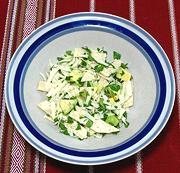 PREP: - (45 min)
Quarter ONIONS lengthwise and slice thin crosswise.
Crush GARLIC and chop medium. Chop CHIPOTLES medium (keeping their share of the Adobo sauce with them). Mix.
Heat Olive Oil and fry CORN until it is sizzling well, then stir in Onions. Fry stirring until onions just start to color.
Stir in Chipotle Mix and fry stirring a few minutes, then stir in Diced Tomatoes and fry stirring a few more minutes.
Stir in STOCK (or stir into stock) and bring to a simmer for 15 minutes or so. Stir in Salt to taste, then let partially cool.
Strain part of the liquid out from the solids and run the solids in a food processor until quite smooth, then stir back into the reserved liquid.
Grate CHEESE fairly small, chop CILANTRO medium, cut TORTILLAS in half, then slice the other way into about 3/8 inch wide strips, Dice AVOCADO fairly small. Mix all together well.
Note: if making much in advance, cut avocado and mix in just before serving or it will darken.
RUN: - (10 min)
Bring Soup back up to a simmer. Check Salt and adjust consistency to your preference with stock or water.
Put a generous portion of the Tortilla Strip Mix into each bowl. Pour Soup over until well covered.
Serve immediately.