Varieties
Salt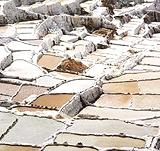 Salt is the most important of all seasonings. It is essential to flavor and essential to life itself. It can also be dangerous. Just how dangerous and how much of it is dangerous is very much a matter of controversy today. For its importance as a seasoning and for its effects on health we have given salt two pages of its own. Photo © i0050.
Salt - Varieties and Uses.
Salt & Health.

MSG - [Monosodium Glutamate, Sodium Glutamate, Additive E621, Ajinomoto, Vetsin, Accent]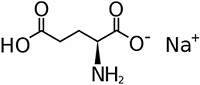 This highly controversial white crystalline powder is rapidly increasing in use, particularly in processed foods. The reason for this is simple, it enhances flavors. Processed foods are loaded with salt and spiked with MSG to cover their lack of natural flavor.
First identified in seaweed, glutamate exists in many natural foods, including mushrooms and some vegetables. Formerly made from wheat, it is now industrially produced by bacterial fermentation of carbohydrates, and is celiac safe. It's safety in other respects has been strongly attacked and just as strongly defended. See our page MSG & Health. Diagram by Benrr101 contributed to the public domain.