Yam (True) - [boniato (Spanish), nyami (Africa); D. Dioscorea batatas and similar]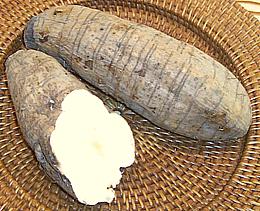 Yams are grown in Africa, the Caribbean and Latin America, but not in the U.S. except a few in Florida. Unlike sweet potatoes they have a rough scaly skin, and can grow to as much as 150 pounds, though they are generally marketed at only a few pounds.

New Zealand Yam - [oca, oka (Andean), Oxalis tuberosa]
Neither a yam nor a sweet potato but a completely unrelated tuber from the Andean area of South America. See Oxalis Family.
Nagaimo - [Nagaimo, Yamaimo (Japan); Glutinous Yam, Cinnamon vine, Japanese Mountain Yam, Chinese Yam; Ma (Korea); Shan yao, Huai shan, Huai shan yao (China); Dioscorea opposita]


Native to Southern China this yam has been cultivated in Japan from very early times. Known in the U.S. mainly as an invasive weed, this vine with arrowhead shaped leaves grows large tubers below ground and small tubers above ground. It spreads mainly by dropping these small "air potatoes" and rarely flowers.
Nagaimo is roughly cylindrical and may be two or three feet long, but the photo specimen was 24 inches long, 2-7/8 inches diameter and weighed 3-1/4 pounds. The skin is tan and the flesh is white and, unlike other yams, sticky and more than a bit slimy. The two Japanese names, nagaimo and yamaimo (shorter, thicker), are applied depending on the root shape. Details and Cooking.
Violet Yam - [Purple Yam; Ube, Halaya (Filipino); Ratalu (India); Uhi (Hawaii); Dioscorea alata]

This violet fleshed yam, now easily available in Southern California in Asian markets, is native to East Asia. It is very sweet and used mainly for deserts, particularly in the Philippines. In India it is also used for deserts but also appears in mixed vegetable dishes. Cooked, its purple color darkens and intensifies.

Yampi - [Cushcush, Indian yam, napi; Yampi, Yampie (Jamaica); Maona (Peru); Mapuey (Puerto Rico); Aja (Cuba); Cara doce (Brazil); Dioscorea trifida]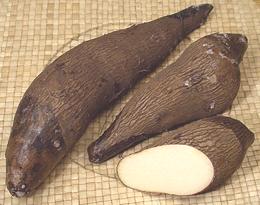 Native to the Caribbean and tropical Central America this yam is grown for its starchy roots and used similarly to Cassava. It contains the bitter toxic alkaloid discorene which is eliminated by cooking. The cut ends of the photo specimens were dipped in wax to prevent drying out and shriveling. The largest of the photo specimens was 11 inches long, 2-1/2 inches diameter and weighed 1 pound.
Raw yampi are very mucilaginous but this goes away when cooked. Cooked the texture and flavor are pleasant and much like a waxy potato but more tender and crumbly and noticeably sweeter. While yampi is a very fine edible, it is overshadowed in its growing region by manioc (cassava) which produces a higher yield and is more durable in storage.