Sweet Potato, White - [Boniatos (Caribbean); C. Ipomoea batatas]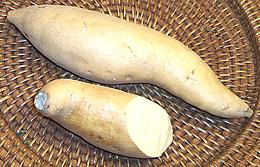 These are the standard grocery store white sweet potato. Sweet potatoes (red or white) are not particularly sweet at harvest but are "cured" at 85°F for 4 to 7 days during which some of the starch is converted to sugar. Pictured are 1/2 pound potatoes.
Select firm sweet potatoes with no soft spots. Do not refrigerate Sweet Potatoes. Temperatures below 55°F will make them hard and ruin the flavor. They should be stored loose (not in plastic) and kept away from sunlight. Stored at 55°F to 60°F and 90% humidity they'll keep for several months but in a normal household environment they should be used within a couple of weeks.

U.S. "Yam" - [Red Sweet Potato; C. Ipomoea batatas]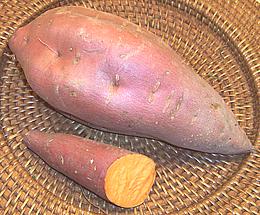 This is not actually a yam but a sweet potato variety with red skin and orange flesh. The term "Yam" was adopted from the African "nyami", the name used for sweet potatoes by Southern slaves. This was to differentiate it from the white sweet potato in commerce. Unlike True Yams they have smooth skin as other sweet potatoes do.
Pictured are a whole 2 pound and a cut piece from a 1/2 pound sweet potato. This "Yam" has orange flesh that is moister and sweeter than that of the White Sweet Potato but all other characteristics are pretty much the same.

Murasaki Sweet Potato - [Japanese Sweet Potato, Satsumaimo; C. Ipomoea batatas]

In North America, this sweet potato is currently sold mostly through Yuppie oriented outlets like Trader Joes. They can be cooked by any method used for regular North American sweet potatoes, but are a bit drier, almost like a russet potato. They are quite sweet, with a pleasant nutty flavor. The raw flesh is just slightly yellow, but becomes more intensely yellow with cooking. They hold up fairly well to wet cooking, if it's not too long. The photo specimens were purchased from Trader Joe's at 2017 US $1.33 / pound. Average weight was 9 ounces and 2-3/4 inches diameter, varying from almost spherical to short elongated.

Okinawan Sweet Potato - [Hawaiian Sweet Potato; Uala (Hawaii); C. Ipomoea batatas \ cv. Ayamurasaki]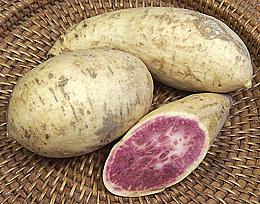 These light beige skinned sweet potatoes were carried from the American tropics to the Philippines and China by the Spanish, reaching Okinawa around 1600. They are now grown on the Japanese main islands, but still considered "Okinawan", with the Murasaki considered "Japanese". They are quite available in Asian markets here in Los Angeles, always confusingly labeled "Purple Yam". Real Purple Yams are not currently much available in North America. The purple color comes from anthocyanin flavonoids, which have antioxidant properties, but how well these survive digestion is debatable. Details and Cooking.

Stokes Purple Sweet Potato - [#94622 C. Ipomoea batatas]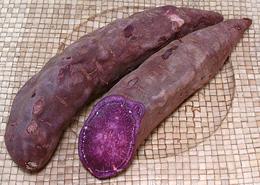 These are a patented variety of Stokes Foods, organically grown under contract in California and North Carolina. Chunks will simmer tender in 10 minutes, but start to break up at 25 minutes. These are moderately sweet sweet potatoes. They ares sold through Whole Foods Market and other Yuppie oriented outlets, 2017 US $2.49 / pound. The purple color comes from anthocyanin flavonoids, which have antioxidant properties, but how well these survive digestion is debatable.

Other Sweet Potatoes - [Goguma (Korea); Kumara (New Zealand); Batata (most Spanish and Portuguese, from Taino); Camote, Kamote (Philippine, from Nahuatl); Boniato (Spain, Uruguay); Patata americana (Italy); Shakarkand (india); Satsuma-imo (Japan); C. Ipomoea batatas]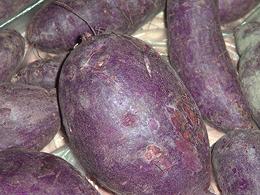 Purple sweet potatoes are grown in much of Asia, including New Zealand, Australia and Japan. Both the skin and flesh are purple, and the color survives cooking. Other colors are also grown through the region.
Yellow fleshed sweet potatoes with red skins are known in North America as "Korean sweet potatoes", but are also grown in other parts of Asia, including Japan and New Zealand. The yellow color is quite bright in Korea and Japan, but very pale in Indonesia. This is the most common sweet potato in China. Yellow sweet potatoes are grown in Australia, but most grown there are the American orange fleshed variety.
New Zealand grows three varieties. A red skinned sweet potato with white flesh streaked with purple is most common, but the yellow fleshed and American orange fleshed are also grown. Photo by Earth100 distributed under license Creative Commons Attribution-ShareAlike v3.0 Unported.

Sweet Potato Stems & Leaves - [ C. Ipomoea batatas]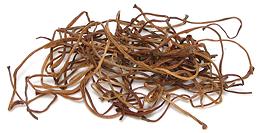 Young leaves and growing tips (stems) of the vines of sweet potatoes are quite edible. These greens are eaten in many parts of Asia, particularly Taiwan and the Philippines, and especially in Africa. For some reason Koreans use only stems and not the leaves. This is not the only plant where the leaves are eaten elsewhere but only the stems in Korea. Details and Cooking.

Sweet Potato Starch Noodles - [230; Dangmyeon (Korea)]


Instructions for these are fairly clear. Boil for 6 to 8 minutes (I say more like 8 to 10 minutes), drain and refresh with cold water, then mix with salad, cold dish, appetizer or as ingredient in hot pot. These are essential to the famous Korean dish Japchae. The photo specimens were made in China, 0.06 diameter by 22 inches folded length. Ingred: sweet potato starch, sulfur dioxide, water. They cook to a firm jelly consistency. Flavor and texture are pleasant and these noodles are much more durable in recipes than bean starch noodles.